Ever since I reviewed Vera Bradley Handbags last year I have been counting down the days until I could do it again! I just love their bags so much. They have the most unique designs and styles, and they have so much to choose from. I can get lost while shopping on their site. I have never been to an actual Vera Bradley store and I cannot imagine if I went to one. It would be like a crazed child in a toy store. Product was received for review purposes and this post may contain affiliate links.
Vera Bradley Handbags
Vera Bradley bags are fashion, quality and versatility wrapped into one. Their quilted paisley prints are soft, comfortable and happy! I find them all to be uplifting and joyous. The Vera Bradley travel bag that I have from my last review I have actually used as a pillow! Seriously, I used it as my carry-on and during the flight I grabbed it to rest my head on. That's what I love about the soft, squishy fabrics that they use.
This time I received some items from the Rhythm and Blues Collection. As always, I was impressed by the extensive selection in this collection. There are 134 items to browse!
Here are the three I received:
Hatbox Cosmetic in Rhythm and Blues – $46.00
Perfect for traveling with makeup, cosmetics, crafts or any other travel essentials. It has a protective lining that can be easily wiped down should something spill. There are also two zipped pockets that will really come in handy. I will use them for makeup brushes.

Chain Bag in Rhythm and Blues – $78.00 
To me this is a medium sized handbag – to some it might be considered large. It is available in many other designs and colors. You may carry it by the handles or attach the optional chained shoulder strap. Personally I like the look of the chain. This bag is fun, spacious and fabulous!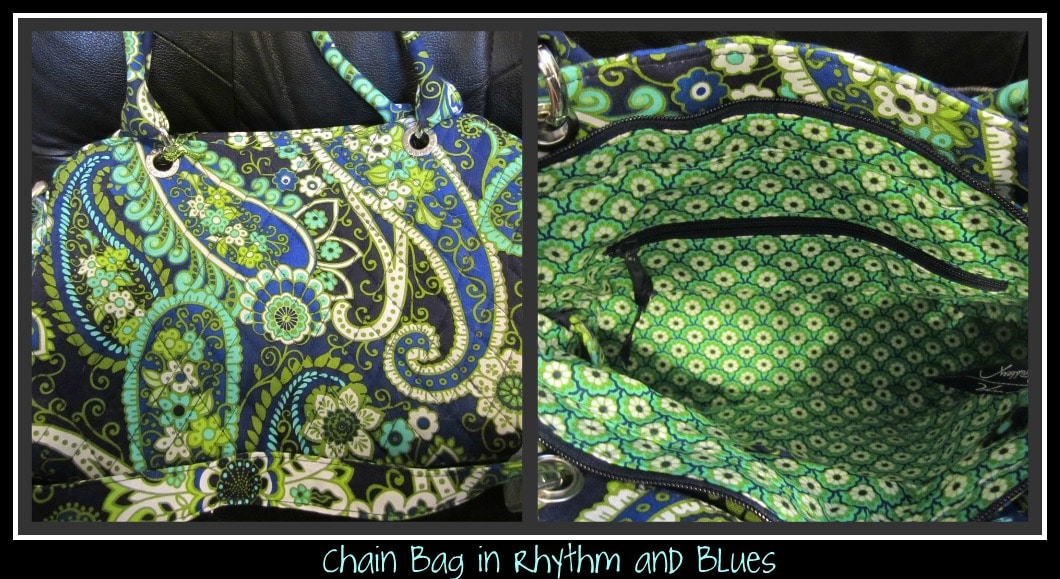 Snappy Wallet in Rhythm and Blues – $30.00
This is a nice sized wallet with several pockets for credit cards, IDs and some cash. There is also a zippered pouch on the outside. Snaps securely to close.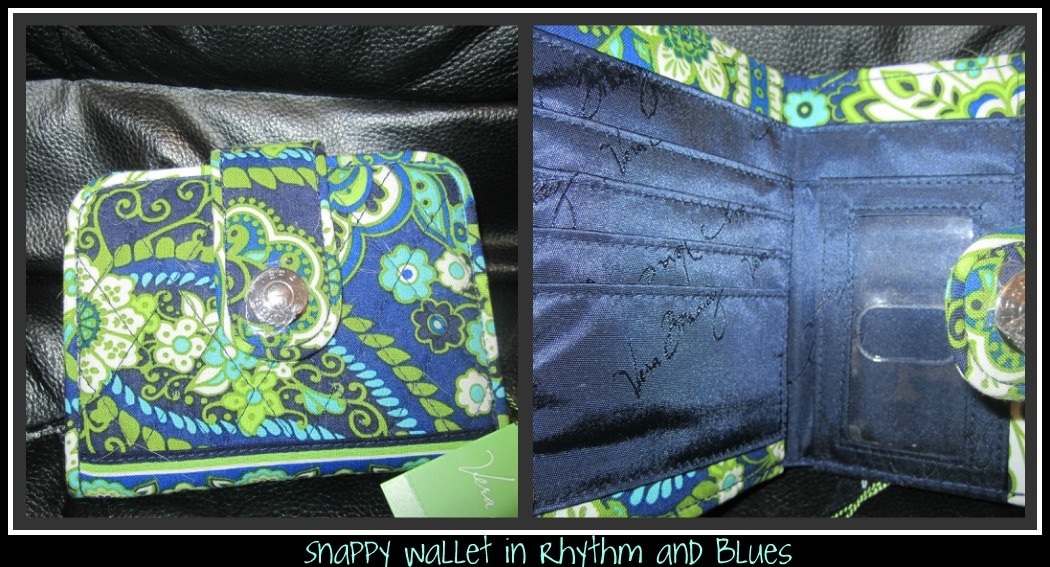 Each item is perfect! Now I am even more in love with Vera Bradley products! If you are looking for gift ideas, I am quite confident that the women in your life would greatly appreciate anything from Vera Bradley!