I have never been known for my "green thumb" and I am not the most garden savvy person on my block, but I do love a well kept garden with lush green plants and colorful healthy flowers. To achieve a pretty garden I need all the help I can get. Regardless of your gardening skills if you have slugs or snails, your garden is headed for destruction. Without fail, every time I place a new plant/flower in my garden I wake to find that those sneaky snails have massacred my beautiful plants overnight…so frustrating, not to mention costly! Product received for review.
Dr. T's Slug & Snail Killer to Rid your Garden of Pests
Dr. T's Slug & Snail Killer is a safe and easy way to rid your garden of destructive plant destroying pests. Many slug and snail killers on the market contain Metaldehyde, which is very toxic and also kills the beneficial insects that you actually want in your garden. Dr. T's Slug & Snail Killer uses Sodium Ferric EDTA and is totally safe to use around pets, wildlife, and edible plants. Snails and slugs actually prefer the bait to live plants. Once they eat the bait, they immediately stop feeding on your plants and return underground to die. In just days you can be rid of these little destructos! one-1lb bottle treats up to 1,700 square feet.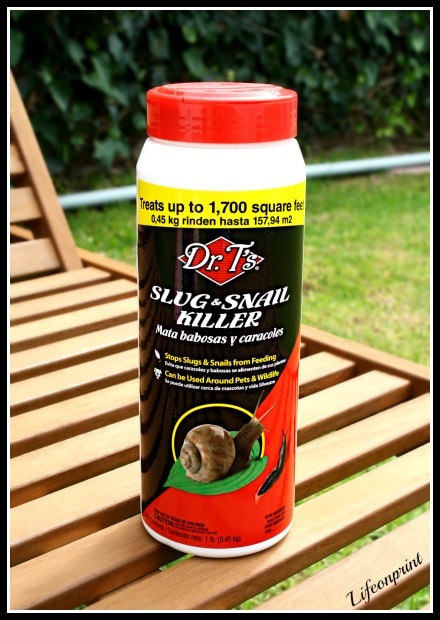 Interesting facts:
*Did you know that snails and slugs are nocturnal and come out to feed at night?
*Slugs and snails can eat twice their weight in plants, and only about 5% come above ground at a time, so if you see a few…know that you actually have many more!
My plants had been pretty much destroyed by slugs and snails, so I was so pleased to see how well this product worked! So easy to use, you just sprinkle the granules in the early morning or evening onto moist ground around plants, flowers, lawns, and shrubs. If needed you can reapply as the granules are eaten or at 14 day intervals until there are no more signs of snails/slugs. It only took about a week for me to be rid of my snail problem, yay!! Now my plants are growing new, uneaten leaves and look so much better!
So happy to have found a non-toxic product that actually works!
I give Dr. T's Slug & Snail killer 2 green thumbs up for- being non-toxic, easy to use, effectiveness, and for ridding my garden of snails!
You can also find Dr. T's on Facebook!