Rubbermaid 2 in 1 Recycler
The new Rubbermaid 2 in 1 Recycler is here to make your life easier when it comes to recycling! With Earth day quickly approaching, it's here just in time. Product was received for review purposes and this post may contain affiliate links.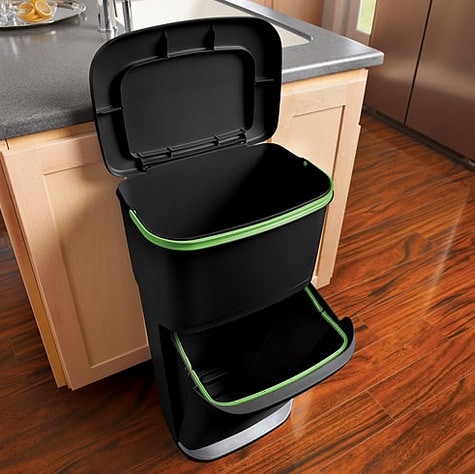 Sorting garbage and recyclables can be a huge pain. I have definitely been guilty of letting the recyclables hang out on my counter tops for way too long. I do not have a large kitchen, so any additional clutter is completely unacceptable! This 2 in 1 Recycler has a separate section to toss your recyclables into. The top portion of the container has a lid and a handle to conveniently carry them out to the street, or wherever you keep your recyclables.
The bottom portion is a tilt out bin for your garbage. It features a locking system to hold the garbage bag in place. This is so great because I cannot stand when the bag slips down! It holds the standard 8-gallon trash bag, and also has handles for clean and easy transport.
The garbage can that we had been using was failing miserably. It had a a lid where the dog was able to shove his nose in there and just help himself. He knows better, but just cannot resist. With the new Rubbermaid 2 in 1 Recycler, the lid completely closes, so he is not able to sneak his way in. Now I am just hoping he doesn't learn how to push the food pedal!!
This container is also tall and skinny, which is a super space-saver! Once again, with a smaller kitchen, every little bit of space counts. The Rubbermaid 2 in 1 Recycler fits so nicely right in the little corner where I want it. We don't have a pantry, but I could picture it fitting into one nicely. It is also made out of recyclable materials and recyclable itself, making it a very green item!
This item can be purchased on Rubbermaid.com and in Meijer stores nationwide.