It is back to school season – are you ready?! Rubbermaid has a super cute solution for your kiddos (or YOU) as you head back to school. The Rubbermaid LunchBlox kids is a fun way to store lunch "stuff."
Rubbermaid LunchBlox Kids Tall Kit
This LunchBlox kit makes it so easy to pack lunch! Modular containers snap together to save space in your kids' lunch boxes. The leak proof lids are easy to open (thank goodness!) – so your kids can get them open even if you aren't there to help. An ice tray helps keep the food you give them chilled and fresh, even if there isn't a place for them to keep them cold. All of the containers are microwave-, dishwasher-, and freezer-safe as well as BPA free.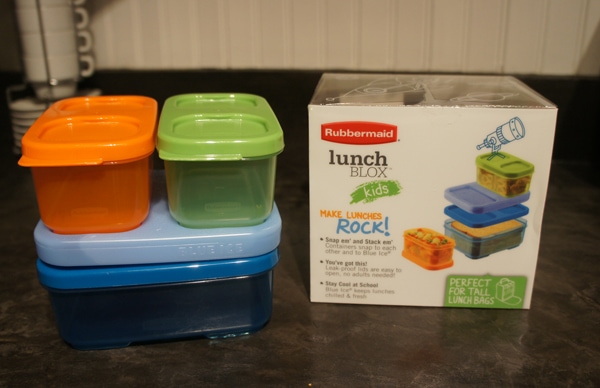 I love these little containers, they are like little legos that stack together and make it fun to keep lunch boxes organized. They are fun color combos – in pinks and purples as well as greens and blues. The containers are portioned to help pack the right amount of your kids' favorite foods. The reusable containers means we are saving money on plastic baggies (and I don't have to feel bad about not washing those stupid plastic bags out to save money like my mom always did!). I will admit, the containers do not snap to each other very solid (like some of those lego creations that will NEVER come apart), but as long as they lids stay on, then everyone should be good to go!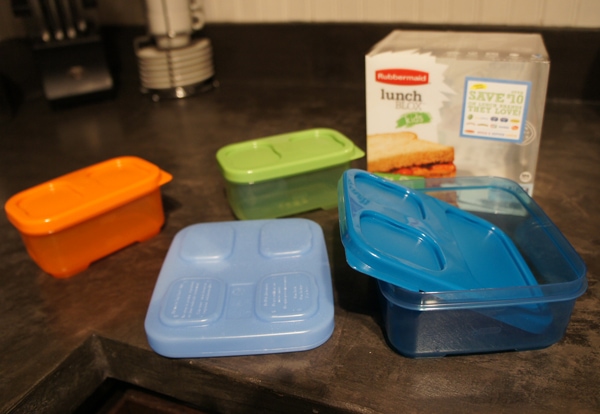 There are "adult" options for LunchBlox too that feature a variety of sized containers for small snacks like nuts or a salad kit that keeps your dressing separate until you are ready for it. The different components make it easy to fit a variety of lunchbox sizes and shapes.
You can find tons of recipes for kids lunches as well as coupons at BuildABetterLunch.com (You can save $2 on ONE (1) Rubbermaid LunchBlox Kids Lunch Kit by downloading a coupon!).