Bamboo Jar with Signature Salts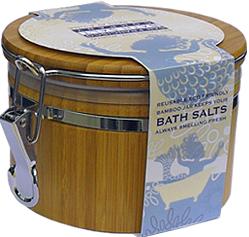 Wow, I need to take baths more often! I forget how relaxing they can be. I rarely take the time to take a bath these days. A shower is just so much more time efficient. But, I am going to make it a point to change that. What makes the bath extra special is what you put in it. Lounging around in plain water just isn't the same. Adding some bath salts can enhance the experience in so many ways.
I received the Muscle Soak Bath Salts. The scent of the Eucalyptus & Peppermint Essential Oils alone is enough to put me into a state of relaxation, but the Epsom Salts also deeply soothe my muscles. Soak in a bath with these salts right before bed and sleep like a baby!
The bamboo jar that the bath salt arrived in is really nice, too. Perfect to leave sit out in the open in the bathroom. It makes a nice decoration and can also be reused or refilled once the salts run out. This saves money because after you own the jar, it will only cost you the salts the next time around. With so many different ones to choose from, this makes it easy and economical to try them all! The eco-friendly jar also maintains the freshness of the bath salts.
I love the spa-like atmosphere the scent of the salts has created in my simple bathroom!
WHAT YOU COULD WIN:

I want to take a minute to explain the prize being offered. Someone is going to win 150 favors! They are 3 oz glass bottles filled with medium grain pacific sea salt in natural white and the winner can choose to have the salt scented with any of the standard scents. They are also offering a customized hang tag with the bride & groom's names and wedding date. This is a $375 value!!!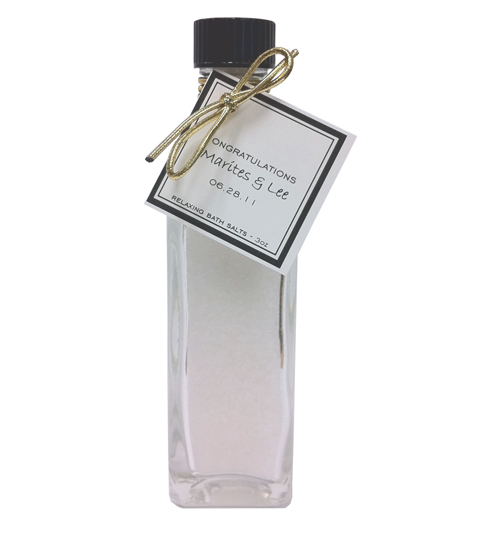 I was sent a sample favor and they are great. The bottle is heavy glass, not cheap plastic, so it looks very classy. I love the fact of sending guests home with something they will actually use. Even after they use the bath salts, they can still keep the bottle with the custom tag as a souvenir of your wedding!