I think it's safe to say that we would all like to save time and make money every chance we get. As a working mom going to school full time, I simply cannot keep up with my kids growth spurts. Grocery shopping only gets done due to absolute necessity. So shopping for clothes is… pfft… not happening. Until I discovered Totspot. I am being compensated for this post, however, it has been my pleasure to review this app and all thoughts and opinions are my own.
Save Time and Make Money
I just recently hoisted myself into our attic to get out all our winter gear. Yeah, it's that time again ALREADY. After utilizing my mad Tetris skills to get this over sized box out of our small attic access, I opened it to find that my kids have outgrown everything inside. One of the really nice winter coats, (the three-in-one kind with zip out lining,) I swear Adam only wore a handful of times.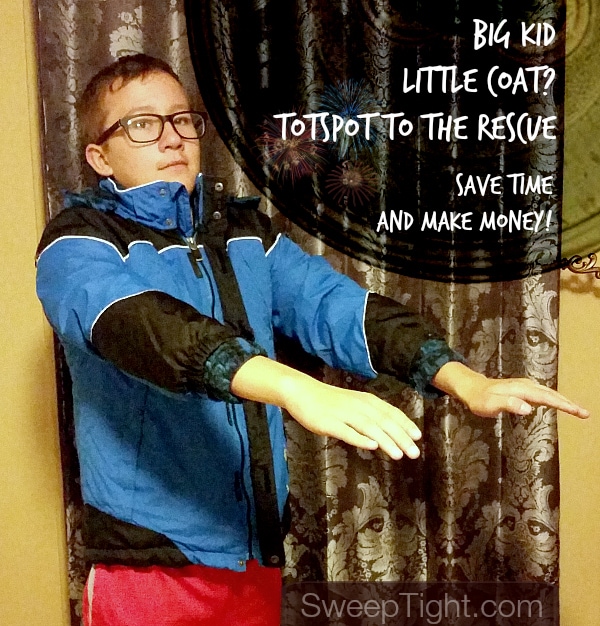 So here I am, with no time to shop, no money to get all new clothes, and no mental capacity to handle writing up an extensive listing to sell anything.
Well, with Totspot, it takes me all of 30 seconds to take a quick photo, describe the item and slap a price on it. That's it. Then, I can search for items that I need that are actually going to fit my enormous offspring. All the while feeling great that I'm helping out some other frazzled mom out there.
Totspot
The Totspot app is available for iPhone, iPad and iTouch for FREE. (Android availability expected by the end of this year!) This app is so user friendly, I may start having my kids list their own stuff! I love that you can shop for only the items that will actually fit your kids. This really is the ultimate time saver and quick money maker.
Oh, and did I mention you can do all this from your couch?!
Find and Follow Totspot on Facebook, Twitter and download the app here!