Weight loss is tough. Many of us know all too well that losing pounds is one of the most difficult obstacles facing us daily. There are yummy treats everywhere! For me, it's a tragedy to walk by a creme filled doughnut and not snarf it down. Product received for review.
Omron Scale – Perfect for Weight Loss
Today, there is an overload of updated information on the benefits of healthful eating, good fitness, and dieting down to a sustainable weight. Still, for the majority of overweight people, the hardest part of all is how to use this knowledge to reach and maintain one's ideal weight loss goals.
Richard Simmons once ruled our chubby world with his "Sweatin' to the Oldies" videos and his popular "Deal-a-Meal" cards. Those were the days when following a food guru's perfect food plan worked as well as anything else available. Now, we have new information, tools, gadgets, food choices, and support groups. Good carbs, bad carbs, protein, fats, BMI, fat percentages – we have easy access to all. However, there's so much to learn and remember I often feel like my head might explode with the force of a thousand suns.
I gave this great scale to Ben, one of our Medi-Weightloss Clinics Weight Loss Event contestants:
Ben's Review:
Luckily for me, I have just received a scale that helps me navigate through at least part of the weight loss gauntlet. Actually, I should say that I have a new body sensor. The Omron Full Body Sensor keeps track of my weight, as well as my body fat percentage, muscle mass, BMI, and visceral fat. For those of you who are not familiar with this term, visceral fat is the really deadly stuff that is stored in your torso around your organs. It's like a massive, greasy, squishy vice, pressing in on your heart, liver, kidneys, and all the other important body parts that keep your body healthy.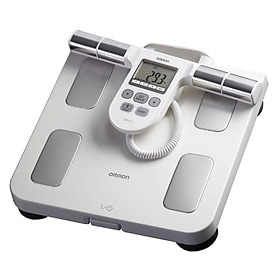 With the Omron Full Body Sensor, I can keep a real-time account of the most crucial physical factors in my quest for thinness. The muscle mass read-out measures how well my lifting sessions are working. The body fat percentage and visceral fat readings tell me if I'm doing enough cardio, and the BMI (Body Mass Index) lets me know if I'm headed in the thin direction. In addition to all the fancy-pants readings, I own a super accurate scale as well. I consider myself a work in progress and as a chubster from birth, I can tell you there's nothing worse than using an inaccurate scale.
Another plus – this scale is easy to setup and use. It took a total of four minutes to install four AA batteries, program my user settings, and get my first reading. A child can do it which is handy, because with four user profiles, it's an excellent device for an entire family.
Of course the dieting process is still hard, but the Omron Full Body Sensor is definitely making it easier and almost fun. With the added personalized information, I see the results of my efforts (and suffering) instantly which is extremely encouraging. It's just the positive reinforcement I need to be able to retreat from the donuts, fried foods, and crunchy snacks I crave constantly.
I can't find one thing about this scale that isn't great. It's user-friendly, good-looking, informative, and encouraging. It verifies that what I'm doing in my weight loss quest is really working. It is absolutely the best scale I've ever used. Don't I look awesome when using it!