Animated Disney movies will always have a special place in my life. I grew up collecting, watching, and rewatching all of them on those classic VHS tapes. Remember when you rewind them all?! I am so excited to bring you Disney's animated movie plans for the next couple years. I attended the D23 Expo as part of a press junket sponsored by Disney. All thought and opinions shared here are my own.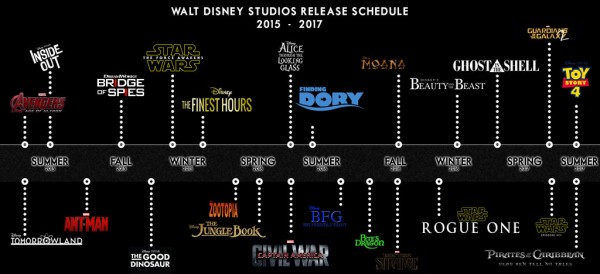 Schedule of Animated Disney Movies
While attending the Pixar and Walt Disney Animation Studio presentation at the D23 Expo, we were bedazzled by the preview of what's to come in the next couple years. (Don't worry, I'll be doing another post featuring the live action film schedule.)
Riley's First Date?
We got to see the world premiere of this new short that will be included as a bonus feature in the digital HD & Blu-ray release of Disney-Pixar's "Inside Out," which will be available digitally October 13 and on Blu-ray November 3, 2015.
Riley's getting older–she's now 12 and while hanging out with the parents, a knock on the door–from a BOY, has our favorite inner emotions scrambling and panicking. Don't miss this short. It's absolutely hilarious.
The Good Dinosaur (#GoodDino)
While at the Animated Disney Movies presentation, we saw never-before-seen clips from The Good Dinosaur. I won't spoil anything–just know this movie is going to be great and to tuck some tissues into your pockets before entering the theater.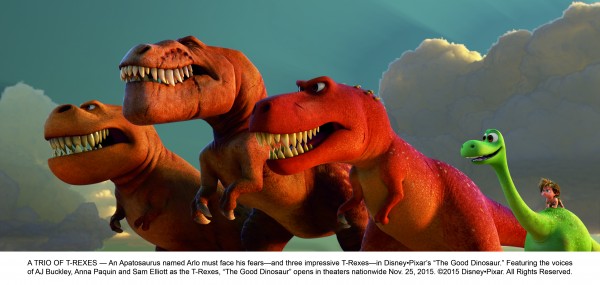 The Good Dinosaur will be in theaters everywhere on November 25, 2015. Mark your calendars! This is, like all Disney movies, one you don't want to miss.
Zootopia (#Zootopia)
We saw some of the funniest clips from Zootopia which opens nationwide March 4, 2016. The entire audience was cracking up. Ginnifer Goodwin has the perfect voice for Judy Hopps–a bunny on a mission to become a police officer in Zootopia.
Lending more vocal beauty and talent to the film is Shakira. As the voice of Gazelle, Zootopia's most beloved superstar, Shakira brings her and the new song, 'Try Everything,' to life.
Finding Dory (#FindingDory)
So, I was in the same room as ELLEN. One of my top bucket list dreams is to meet Ellen. She's my freaking hero. When she came out on stage I think my heart rate doubled. She cracked up the 8000 or so people in the room–I mean, of course she did.
She's finally getting her request for a Finding Nemo sequel! Finding Dory will be swimming into theaters June 17, 2016. Dory's short term memory is misfiring while she's sleeping and she's getting glimmers of her family. This brings her to the seemingly impossible mission to find them. How does a fish with short term memory loss make it across the vast ocean? With help of course! All our favorite characters from Finding Nemo are back along with a few new friends!
Moana (#Moana)
One of the best performances and surprises (there were just so many) at the D23 Expo was when the Rock came out on stage and had us all grunting and screaming. There was then a wonderful musical performance illustrating the magic of the music in the movie. He plays the demigod Maui in Moana. To be released November 23, 2016, Moana is already highly anticipated and causing a craze. I wonder who the voice of Moana will be?
[bctt tweet="I wonder who the voice of #Moana will be?"]
Toy Story 4
With the 20th anniversary of Toy Story this year (OMG, I'm that old?!) fans are beyond thrilled to hear that our favorite characters are back in Toy Story 4. With a love interest for Woody, there's going to be an exciting mission to find Little Bo Peep! Mark your calendars for June 16, 2017!
Gigantic
Set to release in 2018, this awesome story of Jack and the Beanstalk will be brought to life with a real life inspired character, Inma. While creators were researching in Spain they met the 11 year old Inma and were so enamored by her giant personality, they saw fit to portray her as just that. Jack will challenged in the animated Disney movie to help Inma find her way home.
Coco
I'm not sure about a release date, but this one is going to be great. Coco is a celebration of the Hispanic Dia de los Muertos, full of festive colors and music. This story captures how families stay woven together across time through the simple act of remembrance.