With the start of the school year just next week, I can't help but feel like we are preparing for battle. Typically, one of us gets sick then passes through the rest of the household within the first month of school. So, this year we are going to be ready to fight the war on germs with PURELL! This is a sponsored post but all thoughts and opinions are my own. I am part of the Mom It Forward Blogger Network and received product and compensation from Purell to facilitate this post.
Are you ready for this school year?
Ugh. I swear, kids are just gross. I mean, let's face it, if you don't nag them constantly, they're not going to wash their hands or brush their teeth on their own accord. At least mine won't. Maybe it's just me that has repulsive offspring. But it any case, I have an inkling that I'm not alone. Putting 30 or so kids in a classroom is like creating germ soup. Running noses, sticky fingers, saliva… all over every surface. (I'm really not a germaphobe, I promise.) But this is a reality we all must face; but more importantly prepare for.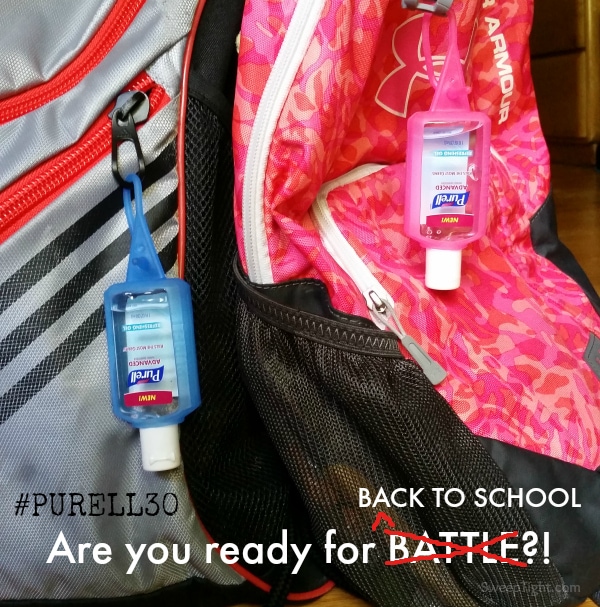 With these awesome PURELL Advanced Jelly Wraps kids, teachers, parents, bus drivers, etc. can be prepared wherever they go…
Recess/Gym Class
On the field
On-the-Go Parents
School Bus
Cafeteria
Play Dates
Make it even more fun by letting the kids decorate their jelly wraps. Bust out the bedazzler, permanent markers, glitter, nail polish, rubber band looms… just let the imagination soar! These easily hook onto just about anything. I have one on my purse and each of the kids has one on their backpack and lunch bag. But these are also great for key chains, belt loops, diaper bags, rear view mirrors, gym bags…
We typically end the school year with teacher gifts, but this year we are going to start it with decorated PURELL Advanced Jelly Wraps for the teachers and bus drivers. The kids are excited and actually more thoughtful about their hand hygiene.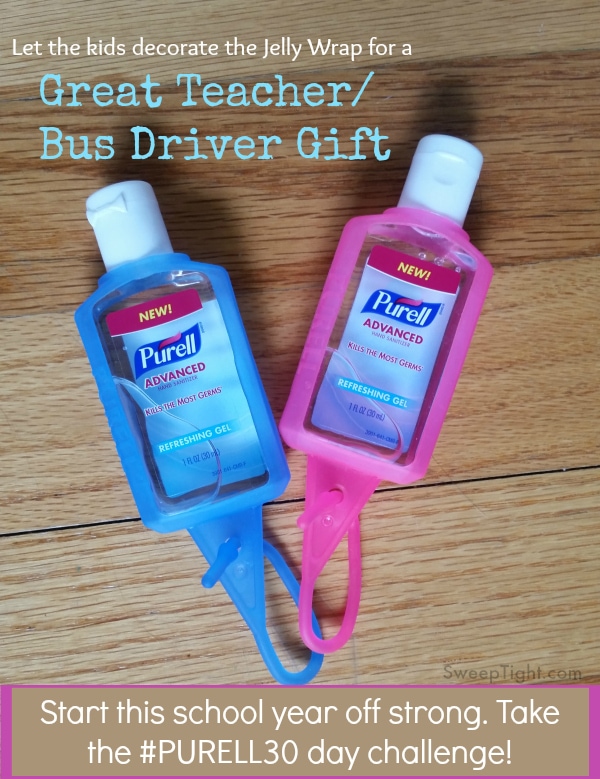 Take the Challenge
The #PURELL30 Day Challenge has also helped all of us get into the habit of sanitizing our hands. The kids are actually sanitizing their hands without me having to stay on them 24/7! We were in the barn and then heading to lunch all without access to a sink… without me having to say a word, both of them used their Purell Advanced hand sanitizer before eating!
The challenge is still running so if you haven't taken it, you can still jump in on the fun! Simply visit this Purell page to register and start participating to earn awesome prizes!