Do you have light colored eyes? Have you had Lasik eye surgery? Or, do you just plain have sensitive eyes? Well, I have all of the above!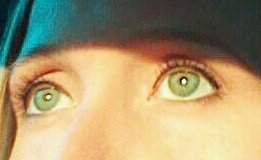 This summer, I made the huge mistake of taking my son out on a canoe and forgot my sunglasses! We were camping at Potato Creek State Park in Indiana (a gorgeous place to camp.)
Later that evening, we were all just sitting by the campfire when I suddenly had double vision! It was the most bizarre thing! I had no pain, just a tiny bit of pressure. If I closed either eye, my vision was perfect, but with both eyes open, I had two separate and slightly overlapping images! I couldn't focus on anything and had no depth perception! Plus, it was so disorienting, I was falling all over the place and started getting really nauseated.
At this point, I was really starting to freak out. I had no idea what could have happened and didn't know what to do. We were in the middle of nowhere, with absolutely no cell phone reception and it's not like I was able to drive. So, I took an Ibuprofen and told my best friend she was in charge of my kids. I laid down in the tent and went bed for the night.
When I woke up in the morning, my vision was back to normal! I could still feel a slight pressure behind my right eye, but everything was back to singular images. When I got home, I read about the possible causes of double vision. Luckily, I don't have any other symptoms to make me think it is anything serious… It was all just because of the glare on the lake! I had strained my eyes so badly that one of the muscles sort of snapped.
Well, lets just say, I'm never without my sunglasses anymore! I hate spending a lot of money on them because I am always taking them off and either loosing them, or they inevitably get destroyed by some force of nature–usually my offspring… :/