Shaklee
As a person who tries to use as many natural and green products in my home as I can I was intrigued by Shaklee's cleaning products and their "What's lurking in your kitchen sink?" campaign. At Shaklee, they believe that health isn't just about what you put in your body; it's about everything around you. Shaklee's Get Clean line of products is natural and nontoxic. It's safe for you, your home, and your planet!
Take a look under your kitchen sink at the cleaning products. Do you find any of these ingredients in them: kersene, phenols, cresol, lye, hydrochloric acid, sulfuric acid, petroleum distillates, ammonia, sodium hydroxide, butyl cellosolve, phosphoric acid, formaldehyde, chlorine bleach, morpholine, or phthalates? As much effort as I have made in changing our household to green products I was shocked to find some of these ingredients in what I was using to clean. Worse yet, I was shocked that not all ingredients are even listed on all cleaners. Who knows what is in there? That is scary. Having two babies in the house I definitely don't want to use anything with harmful chemicals in our home. None of the previously mentioned chemicals are found in Shaklee products!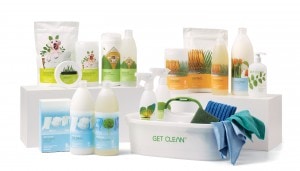 We were sent the Shaklee Get Clean Starter Kit for review. This kit includes some amazing products: Basic H Organic Super Cleaning Concentrate, Germ Off Disinfecting Wipes, Nature Bright Laundry Booster, Hand Dish Wash Concentrate, Dish Washer Automatic Concentrate, Fresh Laundry Concentrate Fragrance Free, and Soft Fabric Dryer Sheets. The kit also came with all of the things I needed to get started in my green cleaning journey! It came with spray bottles, a dispenser pump, measuring cups and cleaning cloths, a sponge and a scrubbing pad! All of this (except the laundry products that we keep in our laundry room) can fit in the handy organizer caddy that came as well!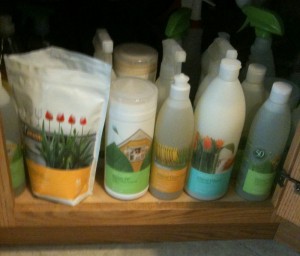 I'm thrilled to have Shaklee products under my kitchen sink! I have tried a few Shaklee products prior to this experience, and I love them all! Let me tell you about a few of our favorite products from this wonderful package we received! First, the Basic H2 Organic Super Cleaning Concentrate is something that every house needs in my opinion. This is an incredibly versatile product. It can be used to make glass cleaner, degreaser and all-purpose cleaner with just a bit of the concentrate mixed with water. I used this to so some major spring cleaning. The window cleaner did an amazing job on our mirrors and windows. We have some mirrors hanging in our family room that our toddler can reach so his finger prints are often a part of the mirror! This window cleaner works great, is easy to get the prints off and is something I can feel comfortable using knowing that my toddler can reach the area that was just cleaned because it wasn't full of toxic chemicals! Next, we made some all-purpose cleaner. I use this for our floors and our counter tops and even to clean the tray of the high chair! It works great and again, no worries of toxic chemicals around the little ones! The Nature Bright Laundry Booster & Stain Remover is another fabulous item from Shaklee! Having a baby and a toddler in the house, getting stains out of laundry is something we do on a regular basis. We haven't always been successful with getting stains out with the previous stain remover we used. In fact, I looked up our previous stain remover on the Household Products Database and was really shocked at the information I found. The Nature Bright has been great! Outside of the baby stains we deal with, our toddler got some food on our couch and this actually removed the spots! This is a product that everyone could benefit from having in their home because it can be used for such a wide array of household stains!
Not only are Shaklee's products free of these chemicals, they are also great on the environment. With just one Shaklee Get Clean Kit 248 pounds of greenhouse gas is eliminated! If you pass on just one Get Clean kit to a friend, it's the equivalent to planting 10 trees! You also save 108 pounds of trash from the landfill with just one Get Clean Starter Kit! Not only are these products great for the environment, they are great on your wallet! You would spend $3400 for ready to use cleaners to get the same amount of clean found in the Get Clean Starter Kit, which costs only $115! All of these facts make me feel great about using Shaklee products, don't you want to change too and help make a difference?
This review and giveaway was made possible by the Shaklee Corporation & Mom Spark Media. Incentives, product and support were provided. Thoughts are my own.