DASANI Sparkling wants to know what makes you sparkle. For me it's my pets. It must be my age, because I enjoy my dogs more than I ever have in my life. I think every maternal gene that I have is coming out in the form of wanting to help animals. This is a sponsored post, but all opinions are my own.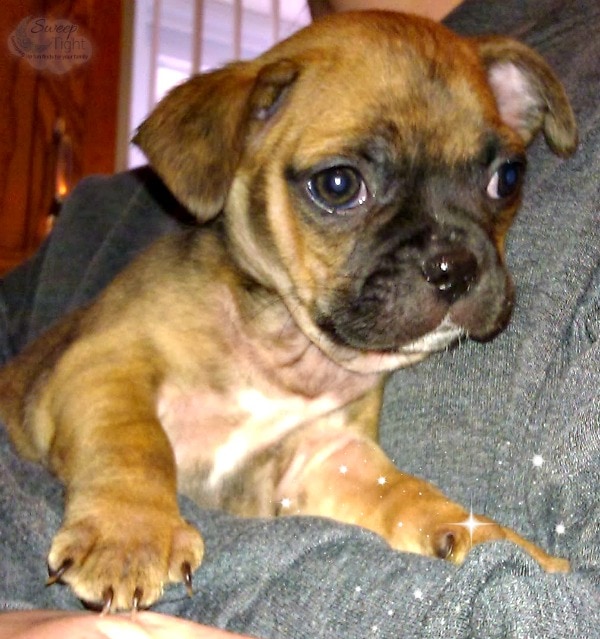 Just look at the tiny Grump when he was a puppy. My heart pretty much overflowed with love for that little face. Ever since he arrived into our lives he has added much happiness and sparkles!
To celebrate their new sparkling waters, DASANI Sparkling is running this amazing contest. I had the pleasure of trying the sparkling water and it sure is a treat. I am normally fine with drinking regular water, but having a little sparkle and flavor is definitely a fun way to switch things up a bit. My husband being a big fan of pop, he really likes some fizz in his water. We took the opportunity to "cheers" to becoming foster parents soon! Speaking of our love for pets, we have volunteered to become fosters. Our first little dude should be coming tonight. (Stay tuned for tons of pics!)
How to enter:
Upload a photo of what makes you sparkle to twitter or Instagram with the hashtag #SparkleWithDASANI
Follow @dasaniwater so they can contact you if you win.
Winner will be selected in early August
As much as I love my pets, the hubby and I could definitely get a pet-sitter to go on this sparkling vacation!!! Trust me, I would not turn it down!
What makes you sparkle? Is it your kids, your job, your hubby, your hobby…?
Rainbow Crumbs for You
Weekly newsletter with our latest posts and shenanigans.