I received a Sherpa Park Tote for review purposes. All opinions are my own. We all know that I love my pets. If I had it my way I would tote them around everywhere. Of course, Hilo is way too big to easily transport. The Grump is on the fence… Weighing in at about 23 pounds, he can still go with me to many places, but carrying in a tote isn't too practical.
Sherpa Park Tote for Pets On The Go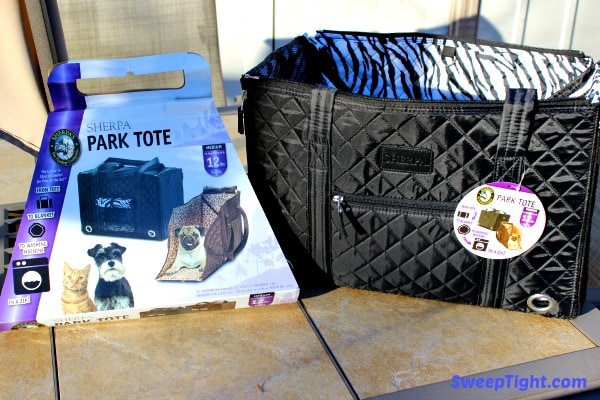 The medium size Sherpa Park Tote can hold dogs and cats up to 12lbs. Obviously, I was really pushing it trying it on The Grump. Wishful thinking on my part, because I would just love to carry him around! We are supposed to start fostering dogs soon, so you never know which little guy might come around that will get great use out of it.
The tote is quilted with a fashionable and practical material. It has a roll-back mesh sunroof panel and a side window with a roll-down privacy flap. It easily totes your pet discreetly, or allows for more social trips. Your pet can be comfy-cozy in the faux lambskin liner. Everything is fully ventilated for ultimate safety. There's even a zippered pocket for storage.
This tote is just the coolest pet accessory ever. It's a versatile item that I can still get use out of as a blanket.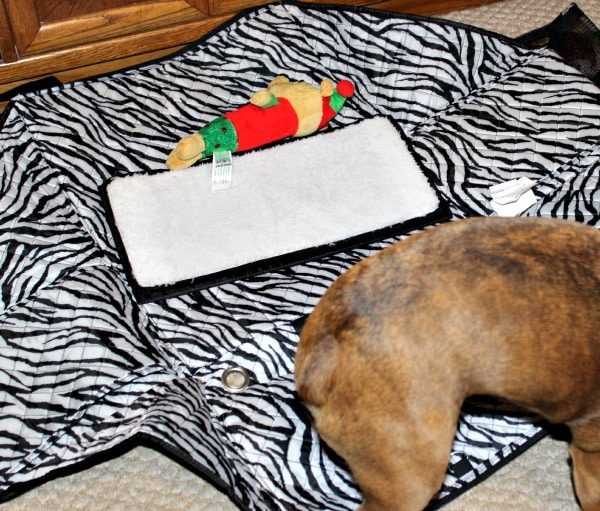 Easily unzip to transform the tote into a play mat. The Grump was so excited I couldn't even get a still picture of him on the mat! The best part is that it is machine washable.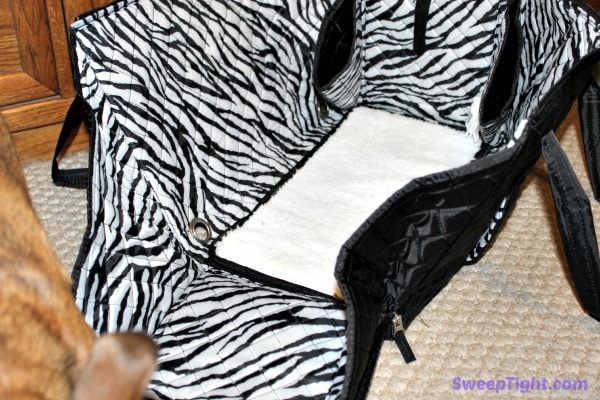 Zipping it back up into a tote takes seconds. Whether you are at a puppy play date, or a trip to the dog park, you and your pet can be back on-the-go in no time.
Get It Here
&
The Sherpa Park Tote comes in two sizes – Small holds up to 6lbs and Medium holds up to 12lbs. Choose from black & zebra print, or brown & leopard print to match your style.
Do you ever tote your pet around? Which Sherpa Park Tote would you choose?