Sibu Beauty offers amazing products for pampering your skin. If you are looking for a great line of facial products, you should really consider ones containing Sea Buckthorn. Product was received for review purposes and this post may contain affiliate links.
Sea Buckthorn facial products from Sibu Beauty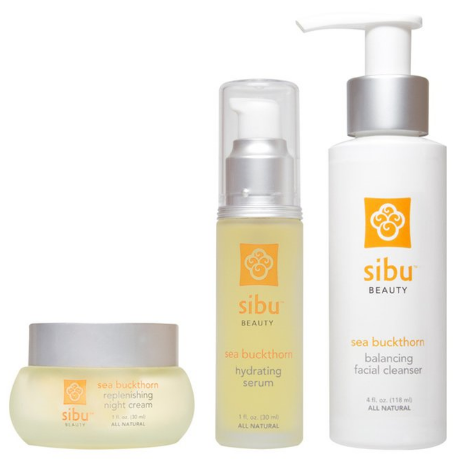 I had never heard of sea buckthorn, but after reading about it, I was very anxious to try out these products. Here are my thoughts on each one:

  Balancing Facial Cleanser:
Usually I prefer a foaming cleanser, but I really, really like this one. I do not miss the foam at all. The citrus-y smell is just intoxicating. It energizes me and smells fantastic. The tiny little beads are just enough to feel the slight exfoliation. My skin feels very clean afterwards.

  Sea Buckthorn Hydrating Serum:
This is very interesting. It's just a light liquid that you apply to your face. It feels a little tingly and definitely refreshing. Although it hydrates, it does not feel the least bit oily. It's just smooth and fresh. Also smells good enough to drink! I cannot get over how much I love the smell of these products.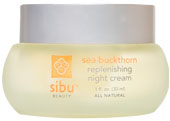 Sea Buckthorn Rejuvinating Night Cream:
Okay, this one made me a little nervous because of my oily skin. Anything with the word "cream" in it makes me apprehensive. But, to my pleasant surprise, my skin responded quite well to it. As long as I use a very little dab of it, I do not feel too greasy. A little goes a long way, so that's all you really need anyway. I put it on before bed and wake up with completely soft and silky skin.
This is a great product line and I am so glad that I got to try it. I think it's even more beneficial to my skin during the summer because of the time that I spend in the sun!
Purchase these and many more products from the Sibu Beauty Website.