Simply Bath Salts
It's not often that I get to pamper myself, as is true with most people today. As much as we would all love to have a spa day every week, pampering ourselves with massages, manicures, pedicures, facials, and the like, it really just is not likely to happen- at least not for the everyday Joe. In my life-long quest to be as frugal and thrifty as possible, I have found that there are a few at-home remedies that can work to make you feel as if you have spent the day in a spa, without spending the money that is required to do so. Bath salts have long been one of my favorite options. Product was received for review purposes.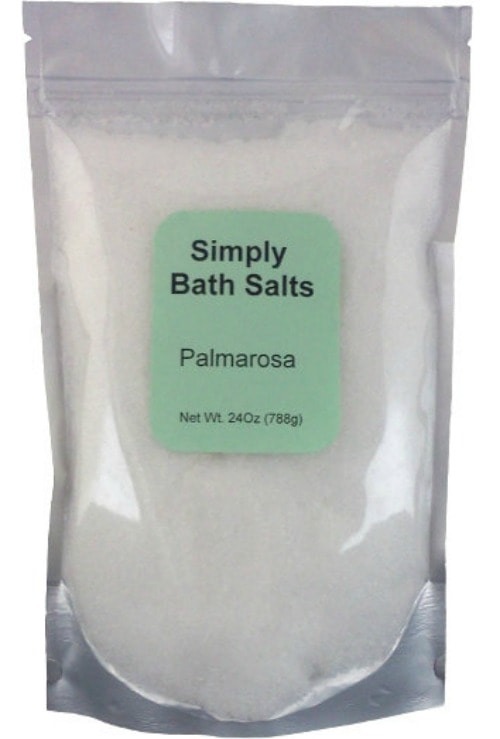 Upon receiving my Simply Bath Salts Palmarosa bath salts in the mail (extremely quickly, I might add!), I was instantly astounded by how clearly I could smell the organic oils through the packaging. Oftentimes, with commercially large-scale produced products, I have to struggle to even get a mere whiff of what I can expect to put into my bath water. That is utterly not the case with this product. Not only is the smell clear and fabulous, but the variety of smells you can choose from is nearly overwhelming. I spent a good 30 minutes just reading the various descriptions! From cedarwood to eucalyptus, lemongrass to ylang-ylang, Simply Bath Salts offers a wide variety of scents to help you soothe your body and soul. You can view the full list of offerings on their website.
To create their bath salts, Simply Bath Salts infuses Atlantic Sea salt, Epsom salt, and Dead Sea salt with organic oils (no pesticides or chemicals!) so that you can reap the benefits of over a dozen pure essential minerals that will work to rehydrate and restore your skin, right at home! The Palmarosa scent that I chose was sweet, lemony, and floral, and reminded me of some very expensive perfume that I'm sure I would have had to pay loads for. My favorite part? I never once felt sticky or greasy after my bath!
You can find Simply Bath Salts on their website, along with some neat bath salt facts, and lists of the ingredients used to create these wonderful products! Honestly, the hardest part will be choosing which scent to get- after that you just get to relax and rejuvenate!
Make your own tub tea rose petal bath soak for another relaxing option!