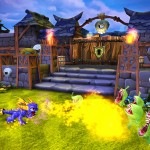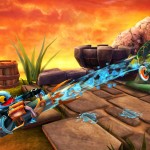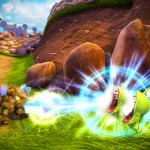 Skylanders Spyro's Adventure for Wii
Okay, so I hate to sound all valley girl or immature, but this game is truly "Oh-My-Gawd" worthy. My boyfriend, Chad, and I told the kids we would have a Wii night one Friday night to see what this game is all about. Chad ended up inviting a few of his buddies over and I never believed they would show. Yeah, right. A bunch of single guys in their twenties are going to show up on a Friday night to play the Wii with my kids. Product was received for review purposes and this post may contain affiliate links.
Boy, was I wrong! They all showed and we ALL ended up having a ton of fun! This game is E10+ (cartoon violence), but we had ages 6-54, loving it. The guys and the kids were so into it, it was adorable! And, I'm not denying it, I'm totally hooked too. Okay, now that I've blabbed about how magnificent Skylanders Spyro's Adventure is, let me tell you about the game…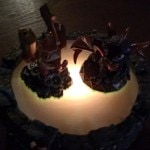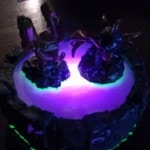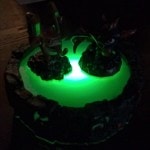 This is an action RPG (roll playing game) where you can gain levels, upgrade your powers and acquire new abilities. Now, onto the best part, you can bring the Skylander toys to life! Using the Portal of Power (shown above,) supplied in the starter pack, along with three characters, you simply set the figures on the Portal, and ka-pow! They're in the game! (Setting the game up is a breeze. Syncing the Portal of Power is just like syncing a Wiimote.)  Included in the starter pack is also a poster of all the characters. Each Skylander comes with a sticker that you can adhere to this poster to keep track of your collection.
Honestly, collecting all these guys is half the fun! The game has portals that can only be unlocked by a creature from it's corresponding element. There are eight elements with four collectible characters each.
This game is so addicting and fun that within 24 hours we had to make a twilight run to Walmart to grab some guys so we wouldn't miss anything in the game!
Walmart's shelves were empty when we arrived and I had to ask an associate to go find me some in the back. So, don't waste any time. And, while I bought just the "Single Character Packs," they also have 3-packs and Adventure Packs available! With the Adventure Pack, you can unlock new worlds!!! (Christmas this year is going to be so easy!)
Oh, and I forgot to mention, the graphics are fabulous too! The colors are vibrant and the characters are adorable. I think it is great that they make these creatures cute but totally bad-butt (pardon my language.)  Skylanders Spyro's Adventure really is perfect for everybody.


Players can also do battle mode for some real one-on-one fun. We did this first to get the hang of the characters' moves before jumping into story mode.
You can find the Skylanders on Facebook to learn more about them and what other players have discovered too. Don't forget to follow them on Twitter as well!