A good pillow can help you sleep better. I was thrilled to be able to try a Mediflow® Therapeutic Water Pillow for review. Ever since Shelley reviewed a water pillow a while back, I had wanted to try it myself.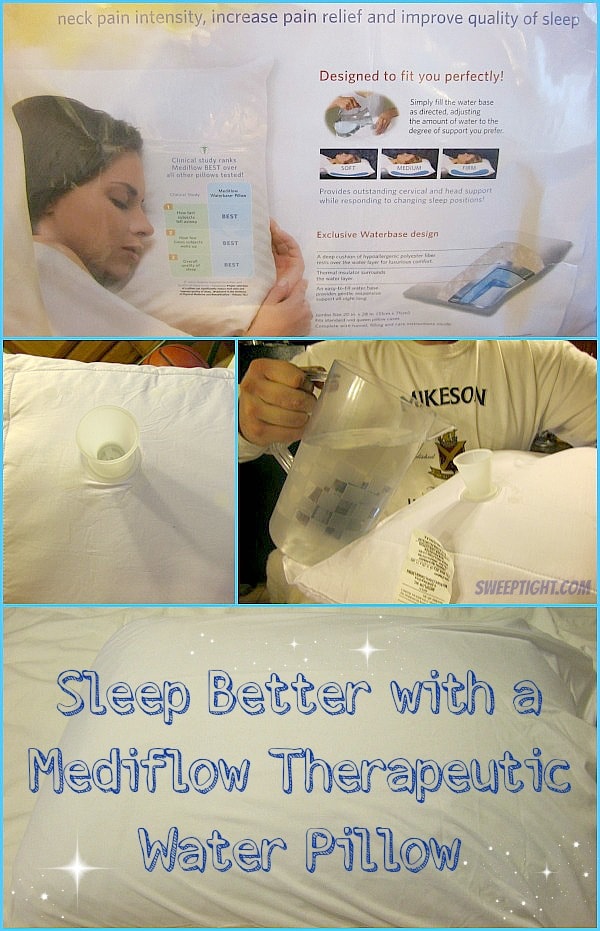 Sleep Better with a Mediflow Therapeutic Water Pillow
I might be a tad pillow obsessed. I have several on my bed and actually surround myself in them. Sometimes I move them around or use different ones in different places depending on what's comfortable at that time. There were also a few on the bed that needed to just go. They were old and totally worn. Plus, with allergies like mine, it's good to replace pillows after a while.
The great thing about a Mediflow Therapeutic Water Pillow is that you are in control of your own comfort. The amount of water that you add to the pillow is up to you. Whether you prefer soft, firm, or medium comfort, it's all customizable by adding more or less water.
The pillow is very easy to use. All you do is fill it with water as per the instructions. We had to repeat the steps a few times to get all the air bubbles out, but overall it only took less than ten minutes.
As soon as I plopped my head down on the pillow I knew I would sleep better. It was soft and very comfortable. My neck felt supported and my whole body felt more aligned. I still have a bed full of pillows, but now only the Mediflow is under my head.
Sleep is so important, I am sure we all know that. If I don't get enough sleep I am like a crabby toddler. I cannot function and become horribly moody. If you have issues with sleeping, I would suggest trying a water pillow.
Mediflow Water Pillows can be purchased at Bed, Bath & Beyond, CVS, Walgreens, Target, Overstock.com and Amazon.com.
What do you do to sleep better? Do you have a favorite pillow?