Sleeping Mask Reviews:
For review, Dream Essentials—quickly becoming my favorite source for all creature-comforts—sent me the Dreamlite™ Sleeping Mask and the Sweet Dreams™ Sleeping Mask with Carry Pouch and Earplugs. Product was received for review. Post contains affiliate links.
Dream Essentials Sweet Dreams™ Sleeping Mask with Carry Pouch and Earplugs
Man, do I wish I had this on the flight to Hawaii! I got stuck next to a person that wanted to have the window shade up and the sun was blinding! All I wanted to do was sleep and it was nearly impossible. This sleep mask is lightweight, breathable, and it doesn't touch your eyelids. It folds down into a compact little pouch and the earplugs that come with it nestle perfectly into the concave areas for easy storage.
I've never had a sleep mask before and honestly never knew what I was missing. I saw them in the movies and associated them with movie stars and divas. I guess that works, since after an uninterrupted nap, I feel like a super star! Now that I'm back working nights, this is priceless! And, if I ever have a migraine headache brewing, these masks give me a fighting chance to grab a nap and prevent the misery.
Dream Essentials Dreamlite™ Sleeping Mask
This one is also lightweight, breathable and the fabric is off your face. The best part about the Dreamlite™ Sleep Mask is that they can print anything on the mask! Some examples:
Love this one, especially for the Fourth of July!
My daughter quickly confiscated my Dreamlite™ and I have yet to get it back!
(This specific mask is no longer available but find it in other patterns here.)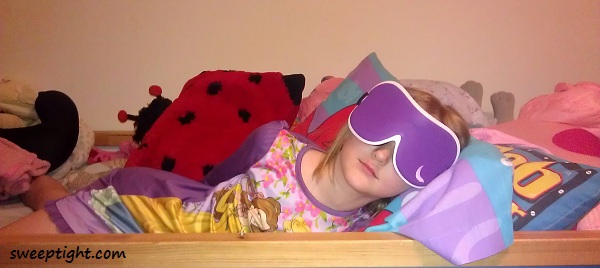 Both sleeping masks have adjustable Velcro straps and are washable.
Use Coupon Code: SWEEPTIGHT15 for 15% off your order from Dream Essentials!
Rainbow Crumbs for You
Weekly newsletter with our latest posts and shenanigans.