For most pet owners, our cat & dog companions are considered nothing less than furry members of our family and just as we would for anyone we love, we want to make sure that they receive the best products out there..from the food they eat to the warm bed they sleep in, quality is a must. For this reason I would love to introduce you to a product that I, and The Furry Queen of our castle, have fallen in love with, Sleepypod mobile pet bed!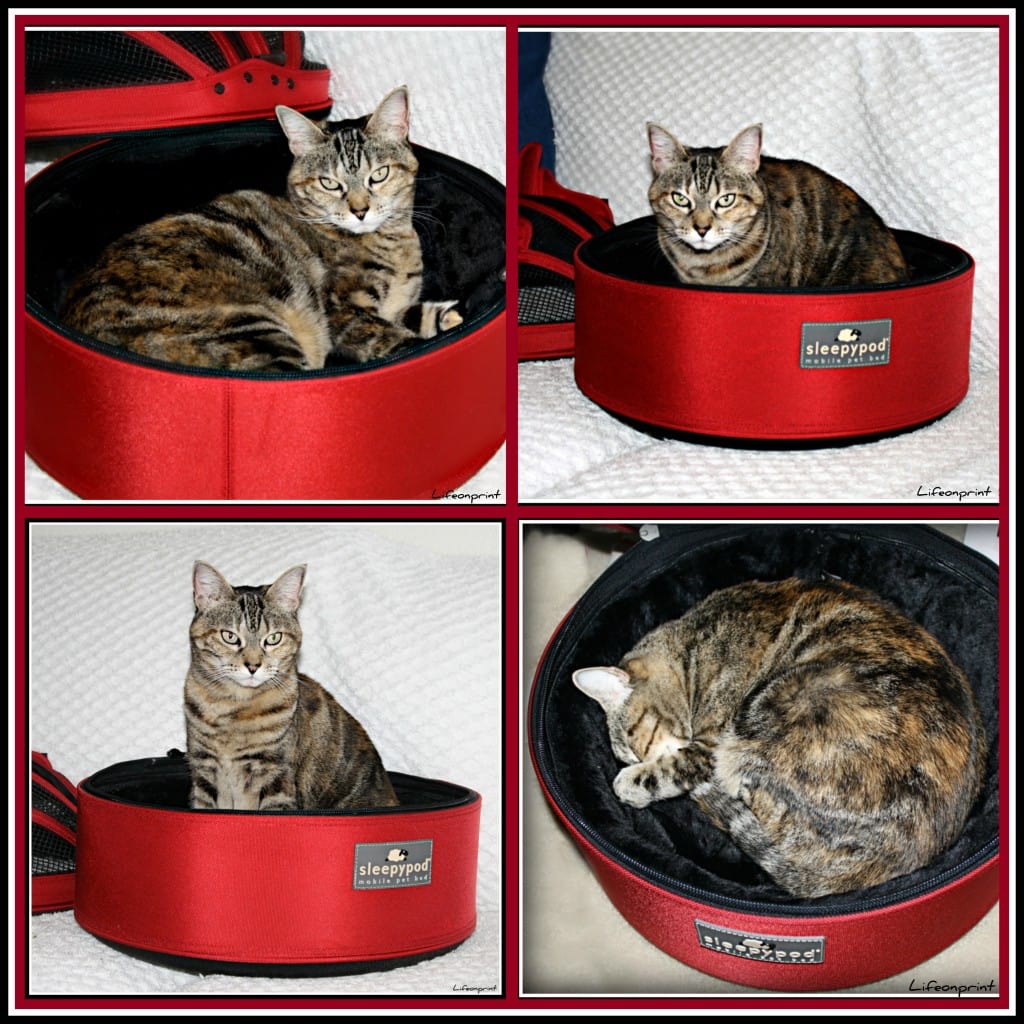 This awesome product is not only a pet carrier, but it is a beautiful bed and also a car seat. Sleepypod is a total 3 in 1 product, how's that for "more bang for your buck?" Who doesn't love a quality product that is functional in more ways than one!
Sleepypod & Universal Warmer Kit
The Lady instantly fell in love with her Sleepypod, she adores the cozy ultra plush fur lining and she really likes the dome lid so she can hide away where she can't be seen, yet through the soft mesh she can see all that goes on around her. Before her Sleepypod, her favorite place to hang out was on freshly laundered clothes or the back of the couch (wherever I didn't want her to be)….but now when I come home I know just where to find her, wherever her Sleepypod is.

The award winning Sleepypod is not only a fantastic 3 in 1, but The Lady has found a 4th use for her Sleepypod… Theater Box/Movie Seat. Yes, she loves to watch movies with us (this is her watching tv while I shoot) On movie night we are sure to put her Sleepypod right in the middle of the couch, she jumps in and cozies down to watch the movie, it's actually pretty darn cute.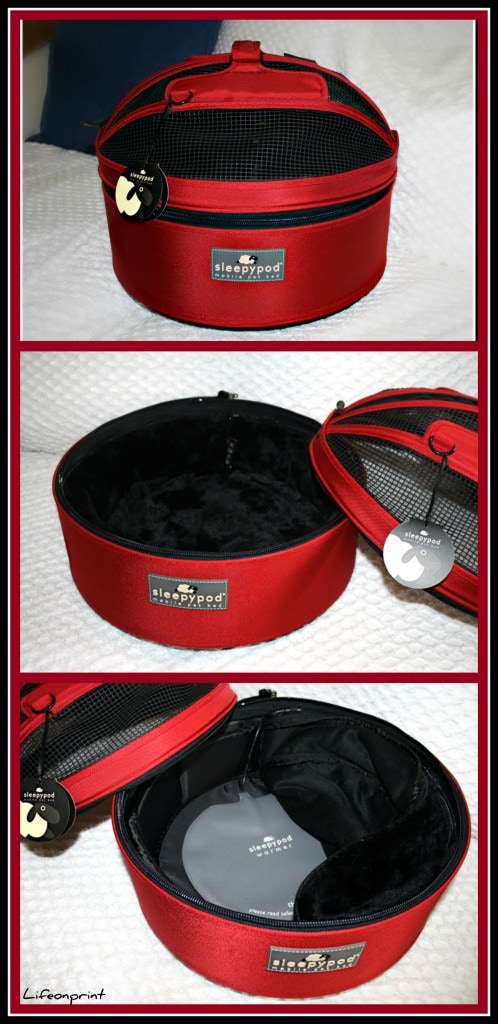 Awesome Features:
• Removable mesh dome reveals an everyday pet bed or pet bed away from home
• Seatbelt straps allow Sleepypod to be safely secured in a car seat
• Secure and durable mesh dome for better ventilation
• Easy access from the dome top or when the dome is removed to reveal the bed
• Removable Ultra Plush bedding is machine-washable
• Easy clean exterior is made of luggage-grade, ballistic nylon
• Adjustable shoulder straps with comfort padding (pictured above)
• Carry handle
• Ergonomic zipper pulls
• A pocket below Sleepypod's bedding can hold a separately sold electrical Warmer Pad to help keep a pet extra cozy
• Air mesh hammock bedding, sold separately, can be used in place of the standard Ultra Plush bedding to help keep a pet cooler in warmer environments
**I was thrilled to also be able to review The Warmer Pad, it comes with a wall and car charger, The Lady loved it, it's perfect for the colder seasons or anytime your pet need a little extra cozy warmth! Very easy to use too.
Interesting fact: Reducing your carbon footprint, 1 Sleepypod mobile pet bed = 3 products: everyday bed, carrier, & car seat. (love that)
"The beauty of the Sleepypod luxury pet carrier is its versatility. A dog that needs to be aware of his surroundings at all times can be just aseasily accommodated as the cat who likes her privacy."
What's so cool about this idea is that many pets are afraid or nervous to travel or be taken in the car to run errand or go to appointment because they are usually transported in a plastic carrier that they aren't used to. When your pet has its familiar Sleepypod, a place they are used to sleeping and playing in, they are less likely to be afraid or stressed when you take them out and about! It feels safe to them.
The people behind Sleepypod love their pets and take pet safety very serious, that is why they hired JARI, Japan Automobile Research Institute to test the crash-worthiness of their award-winning Sleepypod and Sleepypod Mini mobile pet carriers. Be sure to check out the results!
Sleepypod's vision is to, "Create innovative, well designed, and functional products to complement modern, on-the-go lifestyles." After reviewing this product I believe that statement more than ever! This 3 in 1 mobile pet bed is amazingly luxurious, very high quality and durable, along with being totally functional and one of the coolest products around! All pros and no cons. I wouldn't change one thing about this product.
In my opinion the people behind Sleepypod are pretty awesome, you should check them out on Twitter and Facebook too!
You can purchase your own direct from Sleepypod, online retailers, or a store near you.
Sleepypod gets 2 total thumbs up! (if I had more thumbs, I'd give it more!)
Sleepypod comes in six fashionable colors, one to fit everyones' taste!