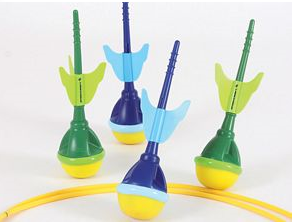 Product was received for review purposes and this post may contain affiliate links.
Soft Tip Sky Dart Game from Sportcraft
Four large sky darts with rounded weighted tip and easy to grip handles
Two score keeping target rings
Two team set-ups, clearly defined by bright dart colors
Full set of game rules and instructions
Heavy duty molded fins for constant in-air motion
Weighted tips keep darts upright after every toss
Durable all-weather target rings
Includes mesh carrying case for easy travel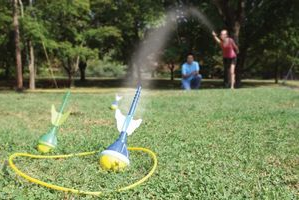 Remember Jarts? I don't think I have ever seen a real one, but Mike grew up playing them. From what I understand, they were lawn darts with pointed tips so that they would actually pierce the lawn. So, like tiny spears? Um…sounds a tad unsafe to me! Not to mention damaging to the lawn! Apparently they are illegal now anyway, but these soft tip darts are just as much fun! They have a weighted bottom, so they stick the landing nicely.
The goal is to land your sky dart into the circle on the opposite side. It's a fun team sport that is safe for everyone. I like that most yard games have similar scoring rules. This one is kind of like beanbags. A bulls-eye (or dart inside the circle) is worth three points, and if no bulls-eye is scored, the nearest dart to the ring in any direction will score one point. If both teams get a dart inside the circle the points for both teams are cancelled out. Once the first team hits 21, they win. Easy enough!
We had a lot of fun playing this sky dart game! It's a great addition to our backyard games and it even comes with a nice mesh travel bag in case we want to bring it with us. The soft tips make it safe for kids, pets and people who may have had too many cocktails! Perfect for our yard. 🙂
Rainbow Crumbs for You
Weekly newsletter with our latest posts and shenanigans.