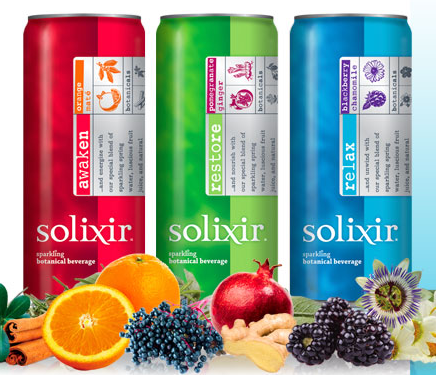 solixir sparkling botanical beverage
The founder of solixir was fed up with all of the beverages out there that are loaded with sugar and artificial ingredients. He decided to team up with an Herbalist and a Registered Dietitian to create a better alternative. Together they brainstormed to whip up these all-natural drinks that contain no added sugar, no sweeteners and no preservatives. What they do have is fruit juice, botanicals and whole lot of flavor! Product was received for review purposes and this post may contain affiliate links.
So, it's about 2pm and you're feeling a little sluggish…what do you do? Probably reach for a huge sugary beverage that is loaded with caffeine, right? That's been my go-to drink on many occasions. Well, that usually does the trick for a while, but then you get that dreaded crash. Ugh…that crash can leave you worse off than when you started. In the solixir drink "awaken" they have combined several botanicals to give you a gentle energy that will not cause you to crash and burn later. It does contain a small amount of caffeine, but nothing to cause a super spike. It has a zesty orange flavor with a ginger zing to it.
The next sparkling beverage from solixir is "restore". It contains nourishing botanicals that your body needs for not only hydration, but to also boost your immune system. All blended together with a tasty pomegranate juice. A delicious drink option for after the gym!
And finally, my favorite – "relax". For when you need to chill out. I could use an entire keg of this in my house. It contains a unique blend of botanicals that have comforting properties. This is not intended to make you tired, just to help you unwind a bit. I enjoy the blackberry flavor very much, too.
I am happy to have gotten to try solixir. With its healthy ingredients, low calories and helpful herbs, this is a beverage line that I will continue to enjoy on a regular basis.
Rainbow Crumbs for You
Weekly newsletter with our latest posts and shenanigans.