We have all heard the saying "perfect baby like skin", but more often than not eczema, rashes, skin irritations, and dry patches can make a little bub's skin less than "perfect".
Dry, itchy, irritated skin is no fun at any age and finding a natural solution that actually works can be just as difficult. Over the counter remedies and prescriptions can be costly, ineffective, and at times can even make things worse! Product received for review. Post contains affiliate links.
Soothe Rashes with Balmers All Natural Monkey Balm
"Baby soft skin for your lil' monkeys"
For those of you who are fed up with irritating skin woes,
Balmers Monkey Balm
may just be the answer to your prayers!
Monkey Balm is a 100% HANDMADE, 100% All natural product, that is easy to use for the relief for your child's dry skin and Eczema and is made with organic Sea Buckthorn oils.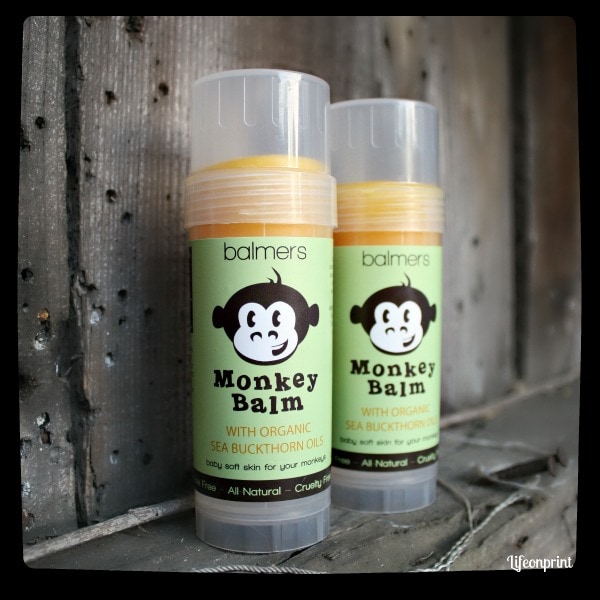 Monkey Balm helps to sooth itchy, painful irritation immediately
Improves eczema and extreme dry-skin in 3 days
Reducing irritations/symptoms from dry climates
Soothing sunburn, minor scrapes and burns, and rashes
~~~~~~~~~~~~~~
I have very dry skin, especially my hands and feet. I wear flip flops almost every day so my feet, especially my heals, pay the price. Before I started using Monkey Balm I had tried almost every "cracked heal" cream out there, but nothing has helped like Monkey Balm. I love the way Monkey Balm goes on, it feels soothing right from the start. I also love that it is not "perfumey" it has a very light, natural scent, that is barely noticeable..I would describe it like a hint of tea scent. Because of my job I am required to wash my hands many times a day with antibacterial soap (very drying) and this has left my fingers dry with cracking skin, even applying lotions every hour did nothing. Thanks to Monkey Balm my fingers are now soft and smooth! I never would have believed it if I hadn't experienced it for myself.
~~~~~~~~~~~~~~~~~~
Why does Monkey Balm work?
Organic Sea Buckthorn oils, which are clinically proven to improve symptoms of eczema, extreme dryness and even burns and wounds. Botanical ingredients help to naturally soothe and alleviate irritation and smooth rough skin. Monkey Balm's no-sting, no-mess formula is quick and easy to apply.
Interesting Facts about Sea Buckthorn:
Recommended by Dr OZ as best natural cure for acne
Listed as the hottest super-fruit for 2011
One of the highest antioxidant contents of any fruit on Earth!
Grows wild at 13,000 feet above sea level in the Himalayas
10 times more vitamin C than oranges
8 times more vitamin E than almonds
Most abundant source of Omega 7 in the world
*Monkey Balm is so confident about their awesome product that they are willing to back it with a 100% Satisfaction Guarantee, you can't beat that!
~~~~~~~~
I give Monkey Balm 5 stars for- being 100% natural, easy no-mess application, cost effectiveness, actually performing as promised, and for being an all around awesome product!