When offered the opportunity to work on a sponsored campaign with BISSELL where I get to review a new vacuum, I was totally stoked. Spring cleaning is something that I put off basically all season. There are still a couple days left in Spring right? I guess we can call it summer cleaning if necessary…
Sometimes I really look forward to seasonal cleaning  if I get into one of those moods but I can't count on that happening. However, new cleaning tools can induce quite a cleaning frenzy especially when they do the job right and with minimal effort on my part.
Spring Cleaning with BISSELL
I received this super awesome BISSELL CleanView® Plus vacuum cleaner for review. I think I have officially reached the level of old because I was legitimately excited to open my front door and see this on the stoop.

The BISSELL CleanView Plus has OnePass Technology that allows for fast and easy cleaning with powerful suction so you can spend less time spring cleaning and more time enjoying all the other fun things going on. This neat brush design totally cleans on the first pass so you don't have to keep going over the same spot. I put this to the ultimate test in the kids room. They have really tightly-woven carpet and the cat's hair gets really smooshed into the fibers. It is like Velcro and this vacuum worked wonders with one swipe!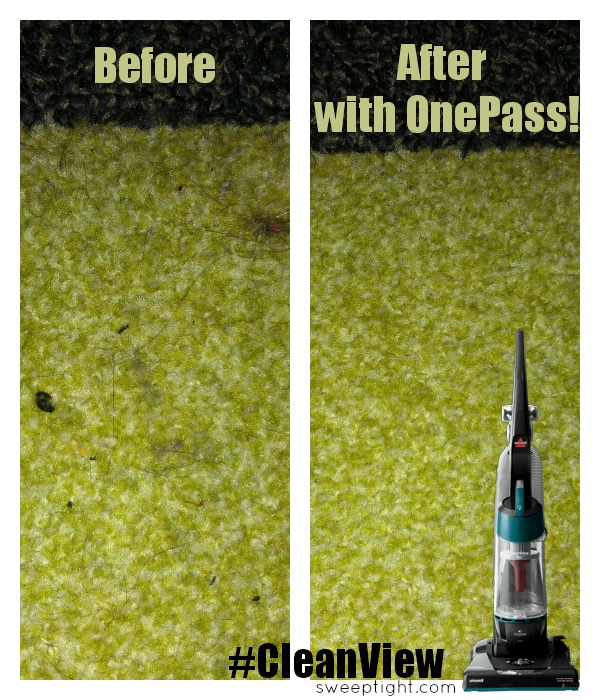 The fact that this vacuum is really lightweight is an added bonus. It is easy to maneuver around all the obstacles in my cluttered house. Speaking of, I love having the option to easily clean between all those areas too. Because my cat goes EVERYWHERE, it is nice to be able to get all the cat hair from tiny spots with all the on-board attachments. They actually have powerful suction unlike so many of my other vacuums.
Plus, this model has a cord that is 30 feet long! It seems really stupid but having to switch outlets while vacuuming drives me insane. It's like once I get my spring cleaning groove on, I don't want ANY interruptions. :/  Darn those spastic OCD tendencies…
The BISSELL CleanView Plus vacuum in now available at major retailers for $89.99. That's an incredible price in my opinion. Check out BISSELL's YouTube Channel!
Disclosure:  I received the product described above and compensation for participating in this campaign. However, all thoughts and opinions are my own.