The past few months have been pretty chilly here in Michigan. So chilly, in fact, that we've not been able to start playing outside just yet and it's the beginning of April! I was thrilled when we received an ItsyKit for review to help occupy my son while we are still doing inside activities. After we experienced the joy of an ItsyKit I know it is something we could do year-round! I personally love crafts and art projects so this kit was right up my alley!

ItsyKits are monthly fun and exploration kits delivered to your door. They provide all the materials, you provide the creative energy! Each fun-filled kit will include 3-4 educational projects that will keep your little ones busy, and very happy! The kits are designed for children between 3 and 7 years of age. Everything you will need is included in the packages and their subscriptions are available in one, six or 12 month periods. More about ItsyKits from their site:
Every project is carefully thought out and enriched with what we call ItsySparks. There are five sparks: Kitchen Spark, Word Spark, Active Spark, Book Spark, and Science Spark. Each ItsySpark will guide you to extended activities with real-life connections that help your child explore using their five senses. How fun, that your little one can cook or bake a theme related recipe in the kitchen! How exciting that your little one can investigate a science experiment! In this manner, they engage their critical thinking skills and ask questions, connecting them even further to their completed projects.
Our hope is for you and your little one to create not "just a craft," but explore each project in a deeper manner, create lasting memories, and bond through this creative experience! We sincerely hope that you will enjoy the Itsy Experience!
What You'll Find Inside of the ItsyKit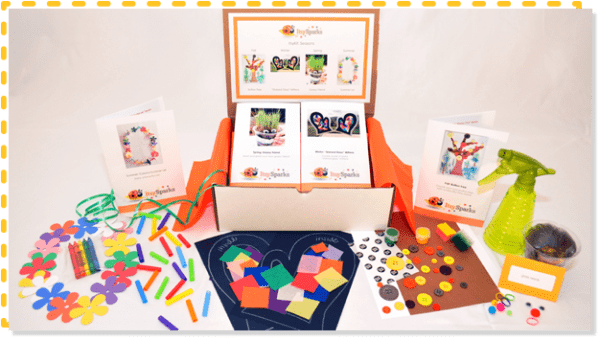 The above photo from the ItsySpark website shows everything that was in our kid for the four projects included! What a great deal!!
Our ItsyKit Art Projects
We had so much fun putting these projects together! Our little guy enjoyed them more than I thought he would! We received the "Seasons" kit and enjoyed a project to represent each season! What a great idea and perfect way to teach little ones about different seasons!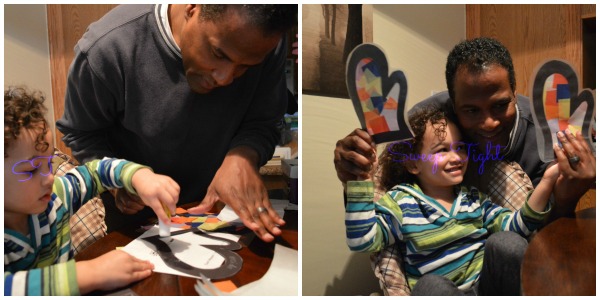 My husband is a teacher and they had a snow day so the winter themed "Stained Glass" Mittens were the perfect project to learn all about winter! The little guy really enjoyed doing this project with daddy!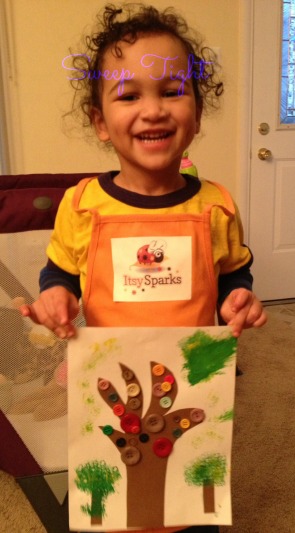 The fall themed project was a button tree and you can see how proud the little guy is of his finished project! There were also summer and spring themed projects that included a Grassy Friend and a Summer Lei.
These projects are great for so many reasons! They are educational, fun, and perfect for a wide range of ages! Order yours today!