The Last Jedi press conference was, by far, the coolest I've ever attended. The room was decked out from ceiling to floor with stars and red lights to create an otherworldly ambiance. The cast's entrance was the best part of all–watch this video to see for yourself. Because we were in a room full of other press, we didn't get to ask any questions, but several good ones came up, which I include below. This experience was part of an all-expenses-paid press junket. All thoughts and opinions shared on this blog are my own.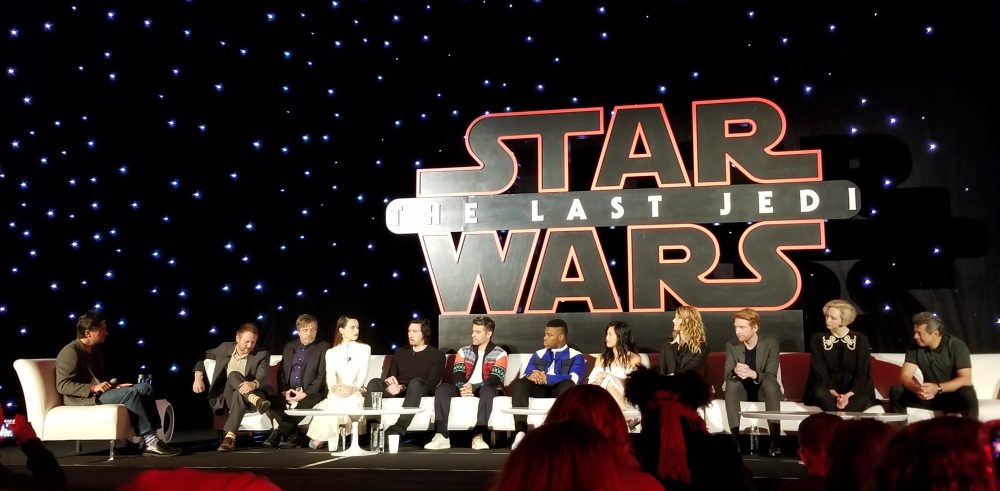 Star Wars: The Last Jedi Press Conference
To get a feel for what it was like to be there in the moment, scroll through my tweets that I was creating from in that extraterrestrial room:
THEY'RE HERE #TheLastJedi #TheLastJediEvent #DisneyPartner pic.twitter.com/NXHOVwMMTQ

— Jennifer & Shelley (@MagicalSiblings) December 3, 2017
The cast is talking about the effect Carrie Fisher had on them growing up and now working on #TheLastJedi without her… it's painfully beautiful and you can almost feel her here. ❤#TheLastJediEvent #DisneyPartner

— Jennifer & Shelley (@MagicalSiblings) December 3, 2017
Ohhhhh… my… everything. I CANNOT WAIT TO SEE IT! Listen to #DaisyRidley#TheLastJedi is in theaters December 15th!!!#TheLastJediEvent #DisneyPartner pic.twitter.com/xjgiyP6DNL

— Jennifer & Shelley (@MagicalSiblings) December 3, 2017
Bad Guys First:
Let's hear from the bad guys. The bad kids always sit in the back at the party. Domhnall, Gwendoline, Andy, any thoughts on just the tone, how this movie distinguishes itself among all the different Star Wars films?
Andy Serkis: "I mean, I was blown away when I saw the movie. I just was so caught up with it, not least because it was really intimate and very emotional and I wasn't expecting that at all. I mean, I know obviously that it was going to go that way, but it was very, very powerful and it touches you. What Rian's done incredibly is make this dance between the tone–between these great kind of epic moments and hilarious antics–you know–literally flipping on a dime and then going right into the heart of these beautiful characters, and you really caring. That was my takeaway–it was just an extraordinary viewing."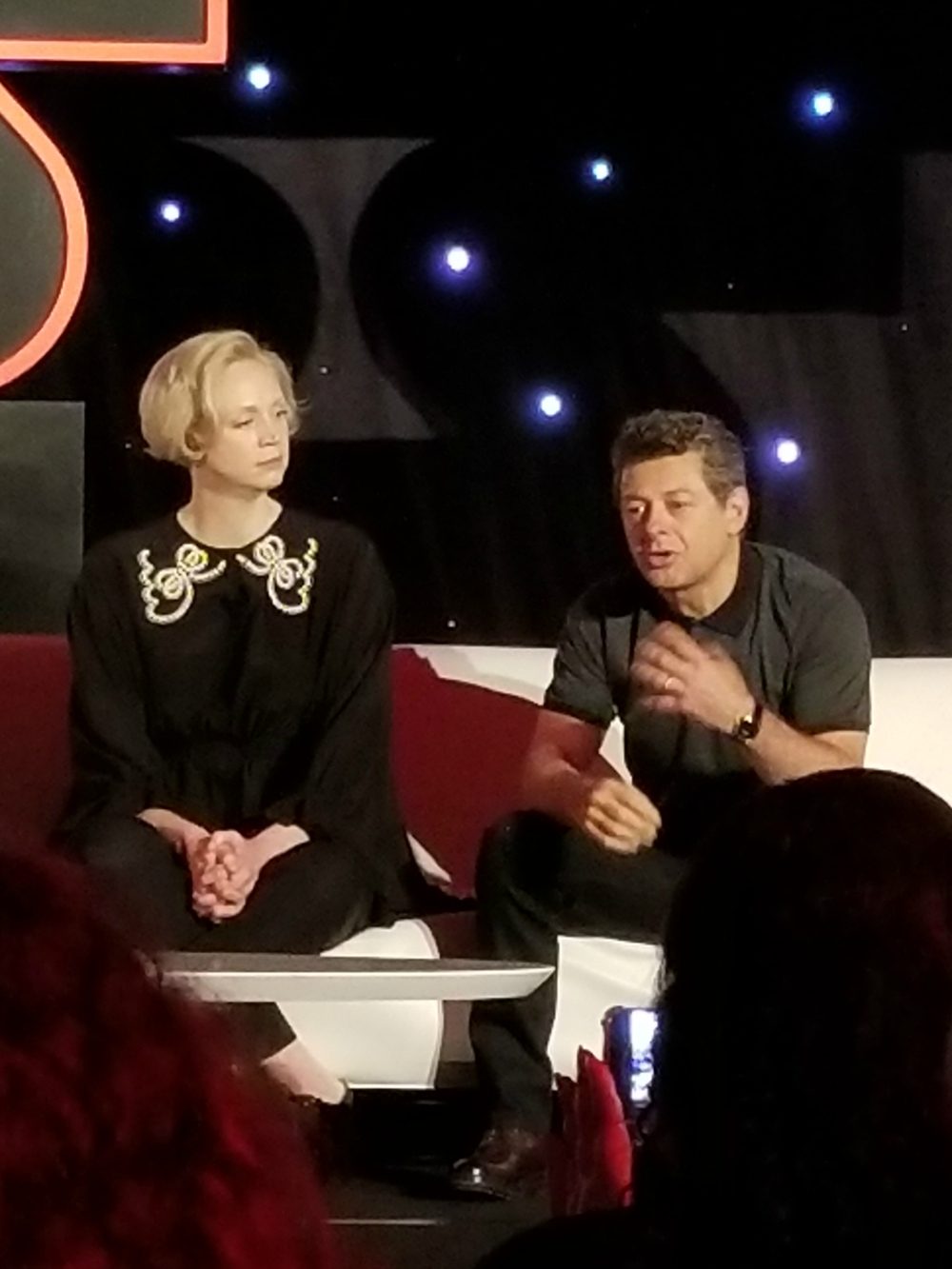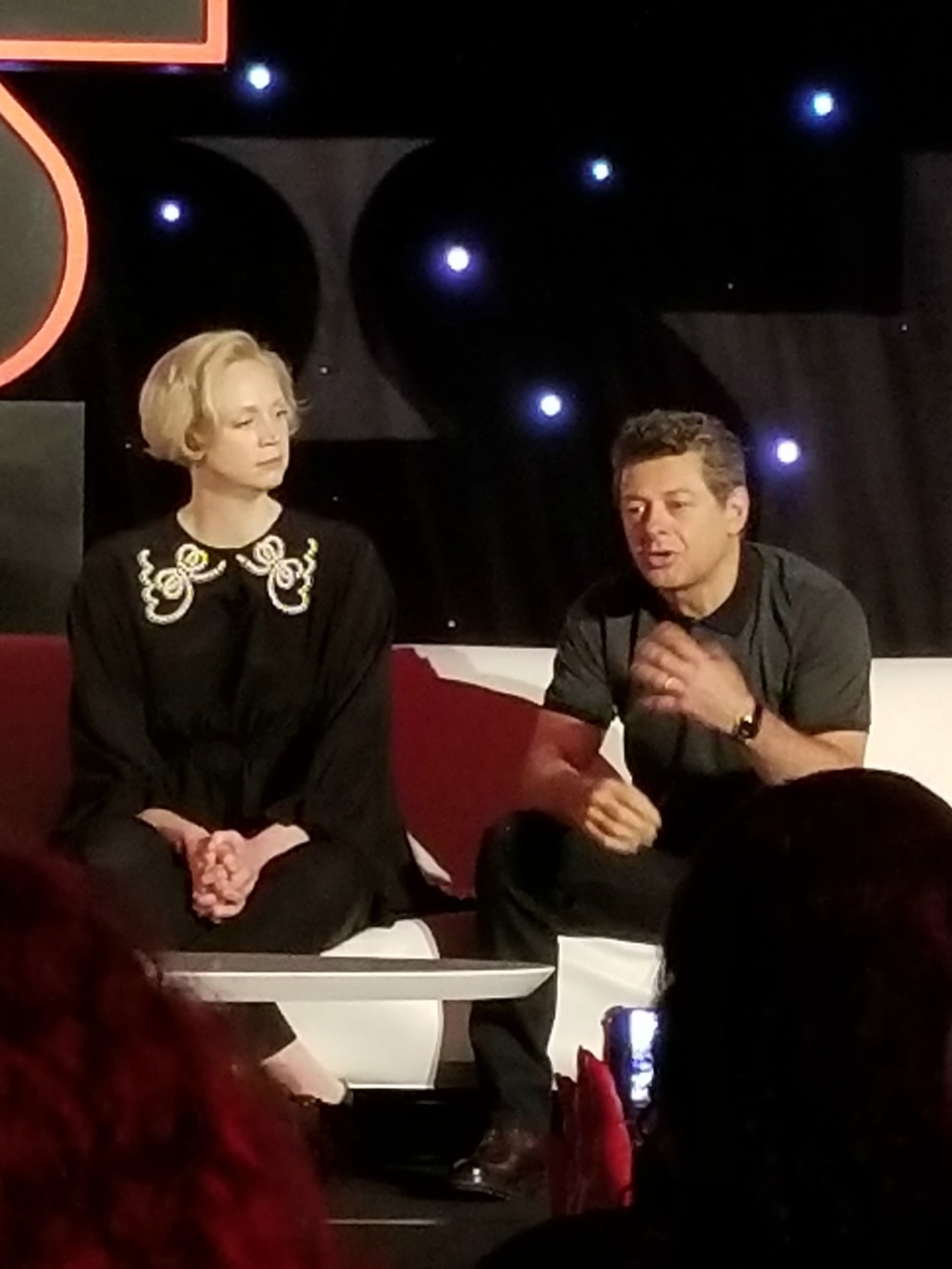 Gwendoline Christie: "I was delighted by the film and what I was surprised by was that Star Wars has always been–I think the reason why it's resonated with us all so deeply is that it's our foundation story of good against evil, and where that balance is, and how we see elements of characters we've never seen before–things that can be unexpected. But there is something about this film and I think it's because the world that we live in is a changing and evolving place, that it retains the simplicity of those elements, but it really resonates with what it is to follow your own human dark narcissistic tendencies, where that will take you, and I love that, and it's done so beautifully aesthetically too."
Domhnall Gleeson: "I didn't go to the screening so–" [Whole room fills with laughter.]
Let's Hear From the Ladies
There are way more female characters in this movie, certainly more than in the first three movies. That's going to mean a lot to little girls. I want to know what it means to you guys.
Daisy Ridley: "I think as a girl growing up in London, obviously, I knew there was a disparity in films but I wasn't so aware of it–like growing up in a liberal household. I was never really made to feel any one way. So, when I got involved I didn't really–I knew it was a big deal, but the response was so beyond anything I could have imagined. It's not like I ever took it for granted or anything but it was just so monumental. The response and how people felt about it, and obviously that's a testament to Kathy, J.J., Michael, Larry, everyone who created the characters in the beginning, and I think what's great about everyone is it's not like she's a girl, this is a guy, this is anything–it's just great characters that happily are falling into broader categories now, so I'm thrilled."
Kelly Marie Tran: "Yeah, I agree. I think that it feels like both an honor and a responsibility at the same time. I feel like from the beginning, when I initially found out I got this role, I just felt like I wanted to do the whole thing justice, and I'm so excited that guys and the girls in this movie kick some butt. Every single one is so good, and I can't wait for everyone to see it."
Laura Dern: "I just want to pay tribute to Rian for being one of the most brilliantly subversive filmmakers I've ever been able to bear witness to. In the case of the look of my character, I was moved by the fact that he really wanted her strength to first lead with a very deep femininity. To see a powerful female character also be feminine is something that moves away from a stereotype that's sometimes perceived in strong female characters must be like the boys. I thought that was a really interesting choice to get to witness."
Gwendoline Christie: "I was so delighted. I wasn't cast in the first Star Wars film yet when I heard about the casting. I was utterly delighted to see that there was a more representative selection of actors that were going to be in these incredible Star Wars films and that has continued. Everything that my amazing colleagues say is absolutely right. You get to see women that are not being strong just because they're acting like men. They're doing something else. And also you're seeing a developed character or at least a developing character, that's showing some complex character traits. I'm just delighted about that. I'm delighted that something as legendary as Star Wars has decided to be modern and to reflect our society more as it is."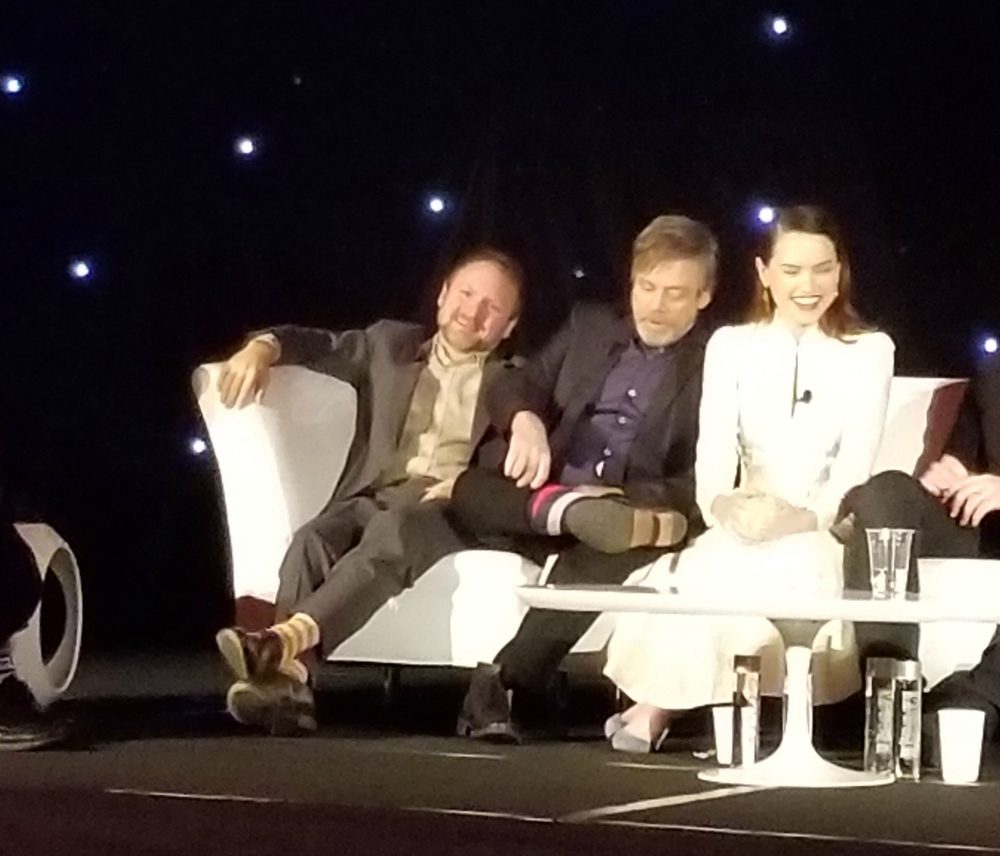 Writer, Director, Rian Johnson
At what moment as a filmmaker, whether it was in the screenwriting process or shooting something, did you feel your transition from fan or felt ownership as a filmmaker of the Star Wars movie that you were making?
Rian Johnson: "Oh, I keep waiting for that moment to happen. Even standing up here, I see the big Star Wars behind me and I'm like, well, do I belong under this? There's no Eureka moment where it's like now, I'm doing it. You're always riding that line between feeling like you're a fan who snuck in the back gate and is getting away with something, which I think is probably a good thing. I'd be curious to hear John, just because you're the biggest fan I know in the world."
John Boyega: "I'm still trying to get over it. I can't lie. Because I think what we forget is that when we filmed Force Awakens it was about two years between then, before we started on Last Jedi, and we went to do other stuff, and then when you come back it just feels like you're back in school. It's fun. Every day was a new set. The practical effects I think like doubled in this movie. The sets were bigger and it's always exciting and amazing. But as everybody has said, you still feel an intimacy when you're doing these scenes."
I think part of what makes this film so legendary is the passion and humility behind it. Everyone is truly honored to be a part of something that is bigger than themselves–than all of us. It shows in the whole story and it translates on screen.
In theaters December 15th!
Check out this new video of the worlds in The Last Jedi:
Don't forget to come back for more interviews and Star Wars: The Last Jedi coverage!