A long time ago. In a galaxy far, far away… *cue theme music*
Star Wars: The Force Awakens is making its way to theaters everywhere December 18th, 2015. Awww yeah! As a long time Star Wars uber fan – I even enjoyed the prequels – I am absolutely stoked about the next installment in the Star Wars series. The Force Awakens will build on the past story as well as the lore of the universe and give us new characters with new motivations and challenges to overcome.
The Force Awakens is Awakening My Geeky Side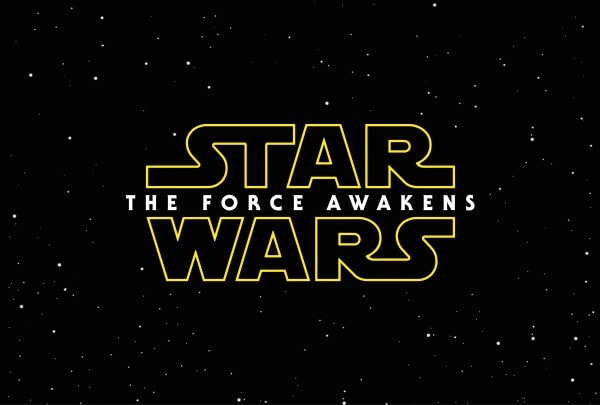 Star Wars fans at Comic-Con 2015 got a special treat with a behind the scenes sneak peek at Star Wars: The Force Awakens. Director, J.J. Abrams, producer and Lucasfilm President, Kathleen Kennedy, and writer, Lawrence Kasdan were all on hand for the sneak peek reel.
If that wasn't enough, after the presentation, cast members Daisy Ridley, John Boyega, Adam Driver, Oscar Isaac, Domhnall Gleeson, Gwendoline Christie, Mark Hammill (boom!), Carrie Fisher (boom! boom!), and Harrison Ford (boom! boom! boom!) all joined the rest of the gang on stage for an extra special fan surprise.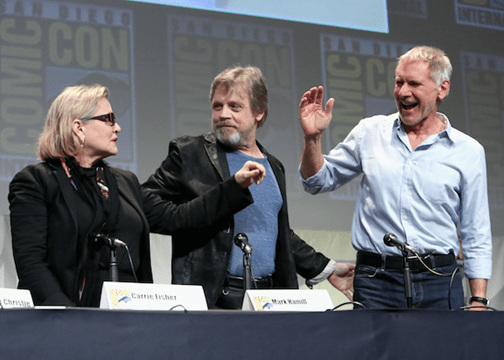 As if THAT wasn't enough – yes there was more – the entire audience was then invited to continue on with their Star Wars festivities by taking in a surprise Star Wars Fan Concert, where they got to hear the San Diego Symphony perform the classic Star Wars music.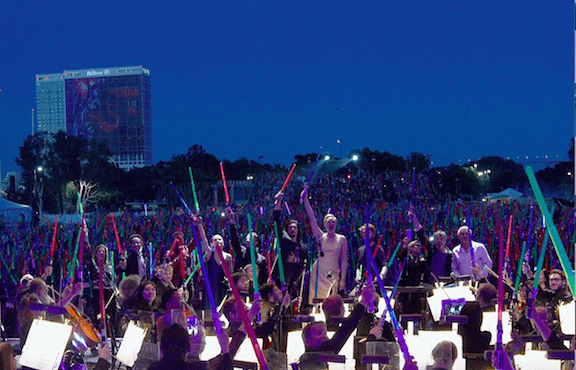 Let me tell you all about why Star Wars: The Force Awakens is going to be awesome. This is a totally new entry into the Star Wars universe. It has new heroes, new villains, and new threats to the galaxy, all the while staying true to the roots of everything we love about the Star Wars setting. PLUS, we're going to see the return of Luke Skywalker, Princess Leia, and Han Solo.
Pardon me while I got have an extreme geek out. Watch the Star Wars: The Force Awakens Comic-Con Reel until I get back.
Okay, I'm back! Did you watch it? Can you see why I'm about to go into a full-on geek out this like of which has never been seen before? This. Is. AWESOME! It's everything I've always loved about Star Wars and more. I love that The Force Awakens is moving forward with a new story but keeping that old school feel. I mean, just look at the Storm Trooper uniforms. You can easily see that they're Storm Troopers, however, they have a new sleeker look.
The Force Awakes is Awakening Pure Awesomeness
That's right. I'm busting out my favorite word again. There's no other word to use for Star Wars: The Force Awakens besides awesome. I can't believe I have to wait until December 18th, but I can do it. I think! On December 18th, I'll be first in line to see Star Wars: The Force Awakens. Be there at your local theater or be a nerf herder!
The Force Awakens is Awake – Rebellion Hot Chocolate Recipe
Until that time, I leave you with this: