Summer heat is no match for Degree's new and improved MOTIONSENSE™. This post is sponsored by Lunchbox, but all opinions are my own.
This week has been a hot one and we have certainly been putting our deodorants to the test. During the horrible storms one of our trees broke and was leaning on our fence and over into our neighbor's yard. The heavy branches were dangerously dangling over their shed. We were so afraid that one more windy day would cause them to fall and completely take out the shed and everything in it. Long story short, we had to get that tree cut down stat.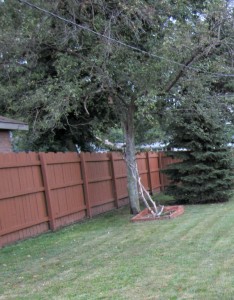 Mike had worked long hours all week. So, this Sunday (his birthday) he woke up on a mission to get this tree out of here. My uncle and cousin generously offered to help us. Once they came over everything ran much more smoothly. The day got hotter and hotter and I was a sweaty mess. I kept taking secret armpit whiffs just to make sure I wasn't about to knock out any family members. Thankfully, my Degree MOTIONSENSE™ was working extremely well! This was definitely a super test that passed with flying colors.
Do: More in the Summer Heat with Degree
With Degree's new and improved MOTIONSENSE™ technology the more you move the more it protects. It responds to your body to keep you feeling confident and cool for up to 48 hours so you can do more. Get maximum protection you can rely on all day long with Degree.
Purchase Degree on
June 29th

& Receive a Free Gift with Purchase!

Degree is the official deodorant of the Mexico Men's National Soccer Team! Together with Walgreens, Degree and the Mexico National Team are offering great gifts when you purchase Degree Deodorant on June 29th, 2014 (12pm – 4pm). Only select Walgreen stores will be participating in the following promotions.
Purchase 1 Degree participating product and receive a Free Poster for the Mexican National Team
Purchase 3 Degree participating products and receive a Free Mexico National Team Soccer Ball
Visit Two select stores for autographs and photos with former Mexico National Team players

9:45am – 11:15pm

Walgreens — 1104 S. Westmoreland Rd. —  Dallas, TX 75211

2:15pm – 4pm

Walgreens  — 1210 Wedgewood Dr  — El Paso, TX 79925