Everyone loves a good sundae, right? Lately I have been treating myself to mini-sundaes. It's not a great habit, but I am trying to keep it under control. Just tiny ones after my salad for dinner. Who am I kidding, I will always find a reason to justify eating ice cream! 😉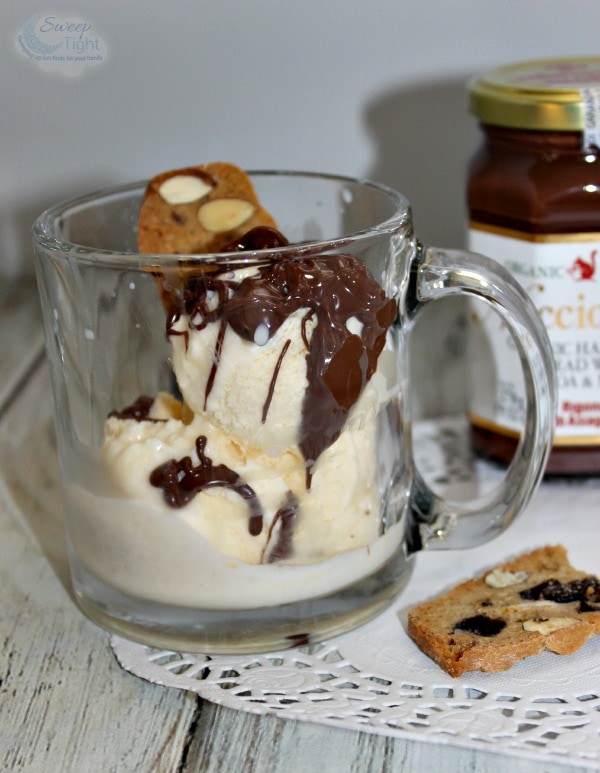 I was sent some hazelnut spread from Nocciolata, Italy's organic chocolate/hazelnut spread. This deliciously smooth spread is gluten-free, kosher and has no palm oil, hydrogenated fat, artificial flavors or artificial colors. Turns out if you heat it up just a little, you can use it as a scrumptious sundae topping. Instead of a hot fudge sundae, it's a hot hazelnut sundae.
For a little crunch I added some Nonni's THINaddictives. I was sent a few boxes of these to try, as well. My favorite is the Banana Dark Chocolate, but I also have Blueberry Oat Almond Thins. THINaddictives are lightly sweet and crunchy snacks. Each individual packet is 100 calories, 4 grams of fat and less than 14 grams of carbohydrates. These tasty almond thins are a great cookie alternative and provide a sweet crunch to satisfy my sweet tooth.
Both of these products added wonderful flavor to my sundae creation. Hazelnut spread has been my weakness for a while now. I pretty much try to put it on everything. We even have a whole post about different ways to eat hazelnut spread.
Here's how I made my new favorite sundae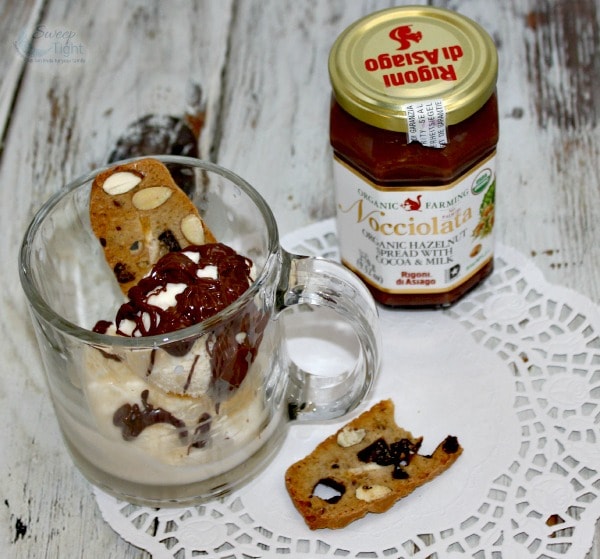 I scooped real vanilla ice cream into a small dish. Then I poured on just a dash of skim milk. This makes the ice cream a little icier and I love it. I took some Nocciolata hazelnut spread and microwaved it just a few seconds. After it was melted a bit, I poured it on top of the ice cream. For some crunch I added in the Banana Dark Chocolate THINaddictives almond thins.
I sent some Nocciolata over to my uncle's house. A week later, my cousin was asking where he could get more. He said it was the best thing he'd ever had in his life. Hopefully, we'll be able to find the organic hazelnut spread easily soon. I'd love to be able to pick up a jar while grocery shopping. However, I did find it on Amazon, so it doesn't get much easier than that!
Rigoni Di Asiago Nocciolata Organic Hazelnut Spread, Cocoa and Milk, 9.52 Ounce Jar
Nonni's THINaddictives Pistachio Almond Thins (One Box of 20 Freshness Packs)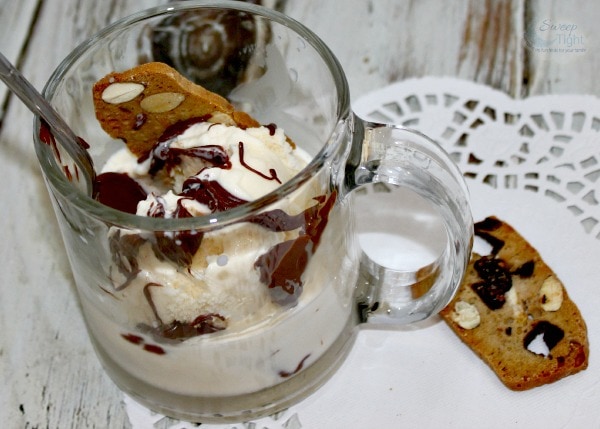 This easy sundae-for-one gives me something to look forward to after dinner. Now that I know hazelnut spread can be easily used as a topping, my brain is spinning with ideas. Think banana splits, drizzle over yogurt, add to my oatmeal – anything.
Nonni's THINaddictives are an easy on-the-go snack, too. I keep some in my purse, my gym back, and my to-go tote for hikes and outings. Add them to serving platters when you have gatherings, too.
More Recipes using Hazelnut Spread:
What are your favorite sundae toppings?