Sweets have been a bad habit love of mine for a long time! I've always had a sweet tooth and cookies are among my favorite sweets! There are so many flavors of cookies that I just cannot get enough! Sweet Andy's Cookies have taken my addiction love to a whole new level!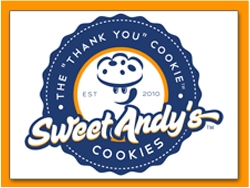 Sweet Andy's Cookies
There is a heart warming story behind Sweet Andy's Cookies. The owner/creator, Andy, found himself in a similar situation as many others with the economy and his job. After leaving his job and pursuing other career opportunities his family found themselves experiencing a financial hardship. They received a lot of help from friends and church members and wanted a way to show their appreciation. Since Andy (a self proclaimed "cookie monster") had already been baking cookies for his children he decided to work at perfecting his unique chocolate chip cookies and began passing them out as thank yous. After the feedback he received and the many requests for more he decided, with the help of a friend, that he would start selling them in local stores. That was just the beginning for Andy, as he now has his own bakery in Northampton Beach, NY and currently shares eleven amazing flavors of cookies with his customers. Andy says "there is a little bit of gratitude and kindness baked into each one". I love a company that is born out of kindness and determination and Sweet Andy's Cookies are just that!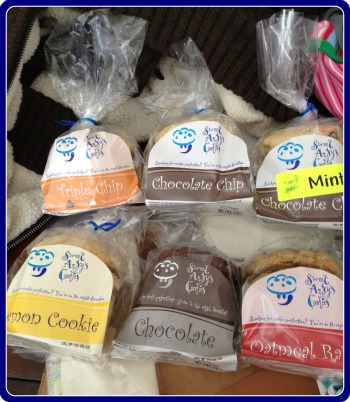 Sweet Andy's kindly sent us six of their flavors to try. I have to say I was more than impressed with each one of the flavors. I am a bit of a "cookie monster" myself and I've not come across cookies this good…ever. We received the following flavors: Triple Chip, Chocolate Chip, Mint Chocolate Chip, Lemon Cookies, Chocolate, and Oatmeal Raisin.
The Triple Chip is a great place to start. They are the perfect combination of semi-sweet chocolate chips, peanut butter and white chocolate chips. Although I am not a huge fan of white chocolate, this cookie flavor was my absolute favorite of the six we tried. It's unique and delicious! The chocolate chip cookies are a classic flavor, but not like any others I've tried. Although they are loaded with chocolate chips, they are not overly sweet and they make the perfect afternoon sweet snack! My husband, who is not as much of a sweets lover as I am, loved the Lemon Cookies and Oatmeal Rasin! The Mint Chocolate Chip cookies have a fabulous mint flavor and the Chocolate is just amazing! The cookies are thick and hearty…in fact, my husband called them "monster cookies" because of their size. 😉 Although I don't think they are huge, they are thick and filling!
Sweet Andy's Cookies will forever be on my list of must-give items for holidays and I can't wait to order more myself! I am afraid that this new found addiction will not be kind to my bank account and may interfere with any weight loss plans that were in place but the taste of these cookies is well worth it!
Purchase: You can purchase Sweet Andy's Cookies directly from their website, or if you are near Westhampton, NY please stop by and visit their bakery!