Swiggies – The Wrist Water Bottle
Every morning I wake up, bright and early, at 5 a.m. and head to the gym before work or class. And every morning, while I'm at the gym, I face the dilemma of whether or not I should take my water bottle with me. Obviously, it's great to have with me, but I am too busy trying to get perfect glutes to want to carry that thing around with me. So more often than not, I forgo my poor water bottle, and nearly die of thirst. When I received my Swiggies in the mail, however, I'm fairly sure I went through a form of enlightenment. Product was received for review purposes and this post may contain affiliate links.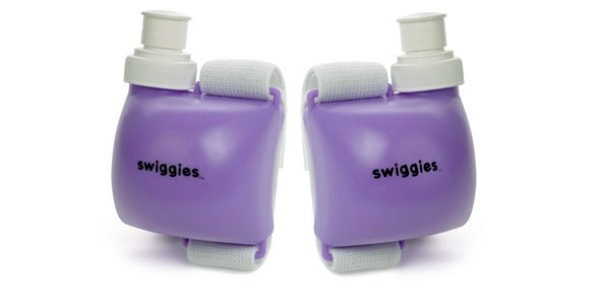 So these things are some really nifty wrist water bottles, basically, and are probably one of my favorite products ever. For someone who both loves to exercise, but also has little patience for extras that just slow me down, I have to admit I was immensely thankful to have these little buggers around. They're so useful they've been featured on a variety of shows and in tons of magazines! Talk about trending!
Truthfully, I received two kid sized Swiggies in the mail, and was going to give them to my sisters to use while playing soccer, I decided to try one on myself. I've always known that I have tiny baby wrists, so the kid sized Swiggies actually fit me well, and I decided to be greedy and keep them to myself! Not a regret in the world either- they were comfortable, efficient, and uniquely contour to the top of your wrist. I was concerned that they would get i the way while I ran, but it was as if they weren't even there.
Find It Here
I did allow my 10 year old sister to use them (…once), and they also fit her well, so it may just be a fluke that they happened to fit me, so you may want to stick with the adult-sized version if purchasing them for yourself, but I can tell you my sis loved them as well. She just strutted her soccer-wear-laden self around, showing off her new wrist water bottle. She told me the other kids were jealous. I totally believe her, because I was too.
If you're an active individual and need a solution to the water-bottle-dilemma, or are just someone who wants to wear such a spiffy little gadget, you need to check these bad boys out. You can find them on the Swiggies website, in a variety of colors and sizes. Depending on the size, they are capable of holding 4-5.5 oz of water in each, and cost around $13 for the pair. Try them out! No more dehydration for you!