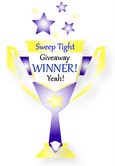 We have a winner for our fantastic Spring Into Summer Giveaway Event co-hosted with Dawn at Just Married with Coupons! This winner is in for an amazing treat as over $3000 of prizes come rolling up to their door!  We want to congratulate Michelle Spayde! Michelle, you are definitely going to be the envy this summer! Congratulations!!
Don't worry if you didn't win this time, you know we have so many other opportunities coming your way! Subscribe now to get a daily update!
Thanks so much to our sponsors for these amazing prizes:
Hoopnotica Travel Fitness Kit
300 Rio Roses
A Skinny Cow prize box with 4 boxes (one of each flavor) of their new candy and a travel bag with nail polishes and a nail file.
JC Sandals from Nomadic State of Mind.
Sea Buckthorn Facial Cleanser, Hydrating Serum and Rejuvenating Night Cream from Sibu.com.
Fujifilm Instax Mini 7S camera and a twin pack of mini film.
A Glitter Eyeliner, Curl Up and Dye Mascara and a Mini Must Haves kit from Hard Candy.
5 free pints of Ben & Jerry's, a pint cozy and an adorable ice cream flash drive.
Sun*Si'Belle Organic Triple Action Moisturizing Sunscreen SPF 30+ from Sweetsation Therapy.
One of each of the 6 Go Max Go Vegan Candy Bars.
Soft Tip Sky Dart Game from Sportcraft.
Coupon good for a free Farm Rich product (snacks and appetizers).
A mixed case of 12 Honeydrop beverages.
BARBAR Turbo 2800 Ionic Blow Dryer.
Shavasana Max2 lash tonic, all natural lash serum to stimulate the growth of the lashes, a volume up mascara, and cucumber chamomile make up remover.
Curiosity Pack & Canned Iced Lattes from Seattle's Best Coffee.
Three products from the Native Remedies SkinSave line.
Fresh + Clean gift basket from Neoteric Cosmetics.
$20 gift card to Jenlinn.com.
Steel Wave Bracelet from Katrese.
A Ped Egg and Heel-Tastic.
$35 gift card to Skin Care for Athletes.
A year supply of Kleen Pool from Florida Water Works.
Outdoor flying disc game from Kan Jam.
Famous Dave's Gold tanner from Famous Dave's.
One of each flavor of Arctic Zero.
Cacao nibs, mulberries and lip balm from Navitas Naturals.
$30 gift code to CafePress.
Rayovac Rechargeable Batteries.
Perfect Sandwich from ContainThis!.
ENJOY Straightener from ENJOY Hair Care.
Case of Ex Slim Energy from Ex Drinks.
Photo t-shirt from Three60Gear.
Swarovski flower stud earrings with connecting brass chain to ear cuff from Vanessa Quijano Jewelry.
EZ Waterless Shave from BodyVerde.
Cool to the touch pillow from PolarPillow.
$20 gift card to ThatsMyShirt.com.
Weaver Gold Microwave Popcorn.
An IceHuggy 2 pack.
Wii Country Dance from Game Mill Publishing.
Large box of PopCorners.
Three bottle of Coppertone sunscreen.
Organic Life Vitamins from Natural Vitality.
Entertaining Gift Basket from Women's Bean Project.
A prize box consisting of 3 bags of Snikiddy, a chip clip and an art kit.
Pop Up Bowls from Orville Redenbacher.
$25 gift card to LoveMode.com.
Choice of 2 soaps and 1 lip balm from The Orange Owl.
Mrs. Butterworth's Spring Edition breakfast kit.
Choice of microbe from GIANTmicrobes.
Volcanic Mineral Scrub from Bambola Beauty.
$50 gift certificate to FiveFingerTees.com.
A sampler of one of each flavor of The GoodOnYa Bars.
(2) bottles of Country Bob's All Purpose Sauce.