<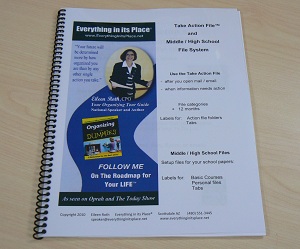 Take Action File™ and Middle/High School Student File System
This couldn't be more perfect for my kids and me! I am a total spaz with lists. I make lists for everything! And then I have such an overwhelming mess of paper, I end up rewriting them several times in an attempt to condense them all… The entire concept is silly because I waste so much time on this, I rarely cross anything off! Product was received for review purposes and this post may contain affiliate links.
But, as a busy mom, if I don't write things down, I have no chance of remembering ANYTHING. I say I have AADD  (Adult Attention Deficit Disorder) all the time, although I've never been actually diagnosed. My mind is constantly all over the place and I find it extremely difficult to focus on any one thing at a time. I don't know if there is anything really wrong with me, or if it's just a symptom of too much going on all the time. But who doesn't have a million things on their plate? And, if you have kids, there are always countless things to remember. And the kids also have their own things to remember like school work, practice times, requirements for Boy Scouts, gymnastics routines…etc. As a bit of an OCD mom, I try to remember all their stuff too so if they forget, I can give the necessary reminders… Ahh!!!
Now I'm supposed to teach my children how to manage their time and get organized?! Oh man, they are in trouble! 🙁
Well, thanks to the Take Action File, I now have a chance at being an organized and less stressed human! Using these simple instructions, I have set up this system for myself and my two children. It only takes about an hour to set one up and it didn't cost much for the supplies because I already had much of what I needed around the house.
My son is 9, and going into 5th grade. He has been diagnosed with ADHD, (Attention Deficit Hyperactivity Disorder) and I don't believe medication is the answer for him… that topic is worthy of a whole new post. He is in Boy Scouts and about to join gymnastics with his sister.
My daughter is 6, and going into 1st grade. She has a terrible time with fine motor skills. Writing has been quite a challenge for her. She was born to flip, dance, and jump. 🙂
With it being summer, our schedule is as calm as it will ever be, and I'm still a disaster! With school just around the corner, things are only going to get more hectic…
Now that I've set up these file systems, I am much less apprehensive about how we are all going to handle our daily routines. The Take Action File™ is a tickler system. It is a system to remind you, or "tickle" your memory, that you have something to do, or take action on. We are all now able to neatly categorize and file our to-do lists, flyers, notes, worksheets, projects, etc. There are three versions of this system available: the Middle/High School (the one I am using), one for everyone, and one for college students.
It is to no surprise that this system was created by the author of Organizing for Dummies, Eileen Roth. It comes with a complete instruction manual for set-up and all the labels you need. All you have to get are the file folders, stand, and tabs. We each picked out our own so that it is truly personalized.