Avengers, assemble! That's one of the best phrases in all of comic-dom, and the Avengers assemble May 1st for the most epic Marvel film yet. To celebrate the impending release of the 2 1/2 hour thrill ride that is "Avengers: Age of Ultron", Marvel has released another amazing trailer and some coloring sheets for the kids, as well.
The Avengers Assemble to Take on Ultron
"Avengers: Age of Ultron" follows the super powered super team as they take on Ultron, one of the biggest, baddest baddies in the entire Marvel universe. I remember seeing him in the comics and thinking, "Now, there's a villain!" Follow all of the heroes you know and love, Captain America, Iron Man, Thor, The Hulk, Black Widow, Hawkeye, along with some new and returning super powered partners, War Machine, Scarlet Witch, and Quicksilver as they battle Ultron for the fate of the world.
I don't think I've ever been as stoked for a movie as I am for "Avengers: Age of Ultron", and I can't wait to see the Avengers assemble to take on one of Marvel's most insidious villains. Take a look at this trailer that's just filled Marvelness.
In this installment of the franchise, the Avengers assemble to take on Ultron, a technological villain who wants to rid the earth of the vermin that is mankind. It's an over two hour thrill ride that has me feeling like a kid again. Speaking of kids, how about some cool coloring sheets to get your little Avengers in the mood for the film? Just print up these Avengers coloring sheets and let the Avengers assemble at the kitchen table.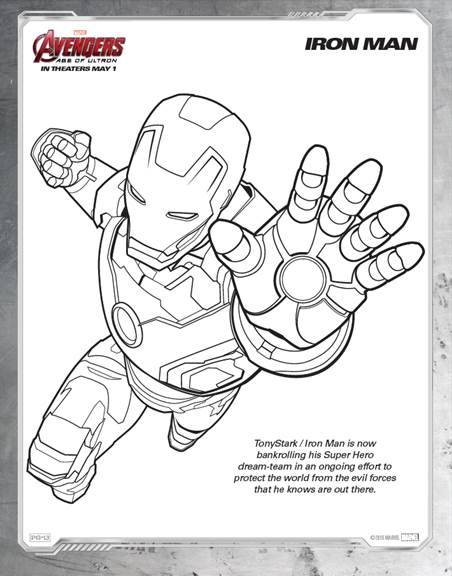 The Avengers assemble for "Avengers: Age of Ultron" on May 1st, and I'm going to do my part in the fight against this villain by eating popcorn and staring at a 3D screen with my mouth hanging open. If you want to help fight the technological scourge, you should do the same!