If you haven't been watching The Real O'Neals on ABC Tuesday evenings at 8:30 Central, you have some catching up to do. You're not going to want to miss tonight's episode, "The Real Retreat" because honestly, laughing is the best medicine right? Well, you'll be cracking up and getting in a good ab workout on top of it.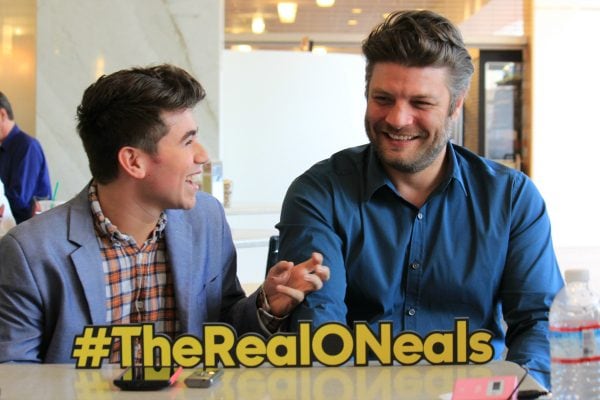 The Real O'Neals
I go into great detail here, about why I love this show so much. In short, it's because it's full of the best kind of self-depricating humor that just about anyone can relate to in some way. While being hilarious it's also got a great message: to love unconditionally and don't be afraid to be yourself–no matter what the people around you think.
It empowers and entertains through laughter. Even people with relatively closed minds will be laughing through the uncomfortable topics and finding themselves more open to different opinion. The cast is adorable and you'll wish you knew them in real life. I can personally vouch for this. Meeting them was absolutely delightful and I left wishing I could just be friends with them all.
Episode 110 "The Real Retreat"
When Jimmy is unexpectedly named Faith Leader for the weekend at the Catholic Youth Retreat, a jealous Kenny decides to take on his older brother's role as ring leader of the bad kids. Home alone without the kids, Pat invites a new lady friend over, and Eileen can't help but enlist Jodi to spy on them, with surprising results.
Everything is better and funnier when karaoke is involved. Don't miss this week's episode. It's got an amazing scene full of karaoke battles that will have you cracking up. Even better, get yourself this kick-butt-awesome Singing Machine and have a viewing party!
MOST IMPORTANTLY…
Make sure you watch The Real O'Neals and tweet live with the cast! If you can't watch live, be sure to watch within 3 days on demand or on DVR to increase the show's ratings so they get picked for a 2nd season! (It only counts if you watch within the 1st 3 days!)
Follow this Twitter list here and Tweet LIVE Tuesdays Nights at 8:30 central!
Like The Real O'Neals on Facebook
What do you think is the funniest part of The Real O'Neals?