Thomas' English Muffins have been a favorite of mine since I was a little kid. They are in some of my earliest memories as a delicious, buttery breakfast. Of course, Thomas' has expanded quite a bit over the years and now offers delicious bagels and other treats, as well. Whenever they come out with something new I love to try it. They never disappoint! Product was received for review purposes.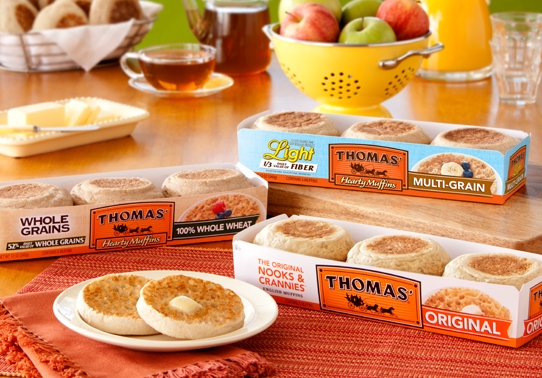 Thomas' English Muffins and Bagels
Since the majority of us kicked off the new year trying to eat healthier and/or lose some weight, Thomas' added a couple interactive features to their website to help us stay on track! With the expertise of Registered dietitian Keri Gans, there is now an easy tool to help you build a breakfast in your target calorie zone, or calculate your own. That way you can still enjoy your Thomas' without the mystery or guilt of blowing all of your daily calorie allowance on breakfast!
For even more fun, there is a new "Toast & Win" tab on the Thomas' Facebook page.  There you can find fun daily tips and the chance to win a coupon for $5 off any Thomas' products. Around here, that would make any package of English Muffins or Bagels FREE! 🙂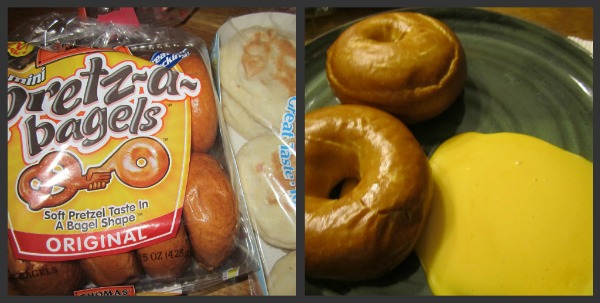 On my last shopping trip I grabbed a package of Thomas' English Muffins and Thomas' Mini Pretz-a-bagels. Oh. My. Goodness. Obviously, I already knew that I love the English Muffins. I eat them with butter, or we make egg sandwiches with them. But, this was the first time that I discovered these pretzel bagels… I am in trouble! They are so delicious and I can't get enough of them. You can toast them with cream cheese like a normal bagel, but I chose to dip mine in hot, melted, Cheez Whiz. YUM!
What is your favorite Thomas' product? What do you like on your English Muffins?