Moving from a house where my son and daughter had their own rooms, to back with my parents where they have to share a room has been quite a spacial challenge. We had a hard time finding room for everything even when they had their own rooms! Product was received for review purposes and this post may contain affiliate links.
In order to utilize as much space as possible we decided to invest in bunk beds. Let me just say, they were not thrilled about having to share a room, but when I told them they could have a bunk bed, that changed things. 🙂  I could just see by the look in their eyes, their fort-building gears were turning.
My son is almost ten now and getting bigger everyday. The kids like to alternate who gets the top bunk and who gets the bottom, but now that Adam is nearing 80 pounds, this makes me a little nervous for him to be on the top bed. Luckily, I found bunkie boards. These reinforce the mattress giving it extra support. Now I have a little more time–and peace of mind–to let him sleep on the top.
Right now we have pretty simple design for our bunk bed… Although, this has not hindered any creative play for my silly kids…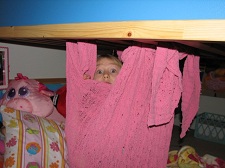 But, I am now shopping for a loft bunk as these offer even more storage space. There are so many options for these designs and layouts it's hard to decide! I wish I could find one in an adult size, because I think I would seriously consider putting one in my room!

Rainbow Crumbs for You
Weekly newsletter with our latest posts and shenanigans.