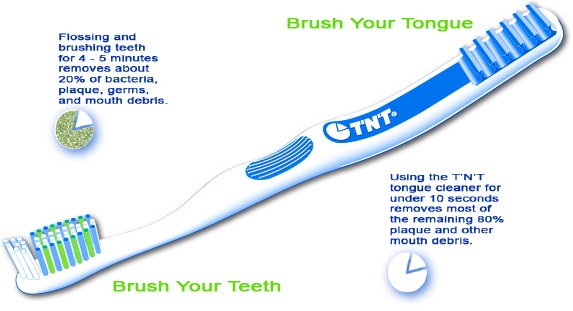 T'N'T Teeth 'N Tongue Toothbrush and Tongue Cleaner in one
I have been using this toothbrush and tongue cleaner for a very long time now. I have not had a cold or flu since I've started using it! That is no exaggeration. The first time I used it, the very first thing I noticed was that it didn't make me gag. The tongue scraper on the end is narrow enough that it doesn't tickle that nasty gag reflex. I've tried others that are on the back of the bristles and they nearly make me barf. Product was received for review purposes and this post may contain affiliate links.
After the first use, my tongue was somewhat sore, but I never had that feeling again. I think I may have just been a super spaz about it the first time. LOL Otherwise, my breath feels fresh much longer than if I were just using a regular toothbrush. Plus, I travel a lot… I LOVE, LOVE, LOVE that this is an all-in-one. My toiletry bag is that much lighter without yet another gadget.
The absolute best thing about this product is that it is an inexpensive possible cure to the common cold! It makes sense that 80% of the gunk in your mouth lives on your tongue. This includes plaque and germs and bacteria that cause bad breath and illness! I love knowing that I am literally scraping all that off and rinsing it down the drain. You can actually see it on the scraper as it washes away! Gross! And, with the back to school season well under way and the seasons changing–I should have had some sort of bug by now–but I haven't!
I also love that this product is made in the USA. It's always a good feeling to support our fellow Americans. 🙂