My baby quickly is becoming an independent little kid. It is bittersweet to see him grow up so quickly, but I know it is an important part of his development to hit these toddler milestones. Most recently we are practicing with his own dinnerware at meals. As a NUK Super Mom, I received a set of silverware, rimmed cup, plate, and bowl – all in a pretty cool Teenage Mutant Ninja Turtle pattern – to help little dude conquer meal-time independence. All items were given to me for free in exchange for my review; all opinions are my own.
Here are a few tips on teaching your toddler to use utensils:
Give them their own spoon and fork – in smaller sizes for smaller hands
Give them time to practice – don't rush the meal, maybe try them at snack time with yogurt or pudding to learn to use the spoon and bananas or watermelon to learn to practice with the fork
Stay positive, model the behavior for them – we LOVE family meals, they are hard with an impatient toddler, but keep going – stay positive!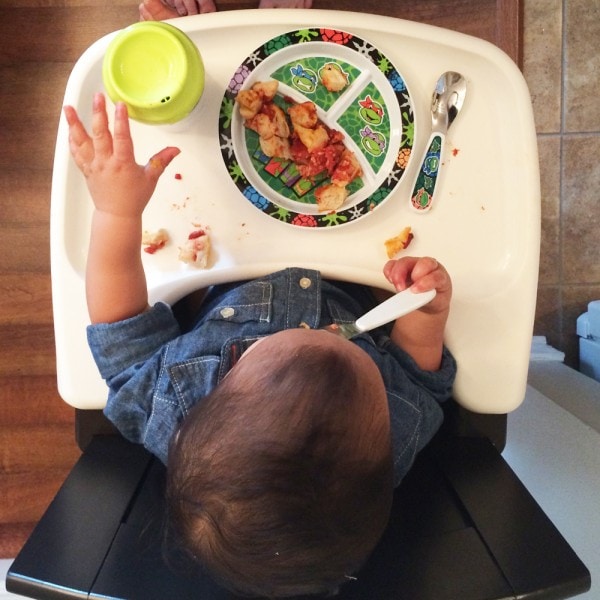 At our house, we were late to let little dude use his own plate because he likes to THROW them. Problem: he was going to get to college and not know what the heck people are serving his food on (HA!). So, we had to stick it out, remind him that plates are not for throwing, and after a couple weeks… we have no more thrown plates. Then came the silverware. At first, he just liked to hold it. He held the fork in one hand and shoved food in his mouth with the other. After a couple weeks, he realized the fork could be a better vehicle to get food into his mouth. We are still working on it, but it is amazing how quickly he learns!

I really like my dinnerware set from NUK – the matching set makes this process more fun because he has his OWN set of dishes. The divided dish helps remind ME to make sure his fruits, veggies and meat are all represented in each meal. So far, my favorite sippy cup has been the Cup-Like Rim Cup from NUK. Many sippy cups have a small piece inside the lid to help manage how fast the drink comes out, but with other brands, this piece falls out easily (usually while in my purse) and the cup immediately drains (usually all over my cell phone or wallet). With the NUK cup, this has NEVER happened to us – the piece is firmly stuck in place, yet easy to remove when you need to wash the cup. Make sure to check out all of the NUK products for toddler milestones on the NUK website.