I participated in a campaign on behalf of Mom Central Consulting for AVEENO. I received product samples to facilitate my review and promotional item as a thank you for participating.
Aveeno Active Naturals Eczema Therapy Care Kit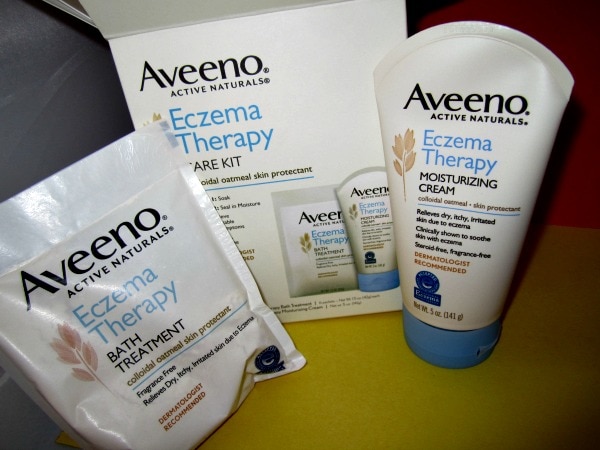 October is Eczema Awareness Month and Aveeno has a therapy care kit to soothe those who experience this uncomfortable condition. Every year around this season Mike starts to develop dry, patchy, itchy, red marks on his body — mostly on his face.
Last year it got so bad he actually went to the doctor for it. They gave him some creams, but it never really disappeared until the summer. So far, there haven't been any flareups for him, so hopefully it stays that way.
I have self-diagnosed myself with eczema on my foot. I have a patch (actually more like a line) of skin on my foot that is always dry and itchy. It drives me nuts sometimes if it starts itching in my shoe. Since Mike is patch-free for now, I thought I would give myself a treatment of the Aveeno Eczema Therapy to test it out.
Colloidal oatmeal is the active ingredient in the bath treatment. It temporarily protects and helps relieve minor skin irritation due to poison ivy, oak or sumac, insect bites, rashes, and eczema. Simply sprinkle in a packet under warm water and soak. This is a pampering and soothing soak. My feet felt so soft and smooth afterward.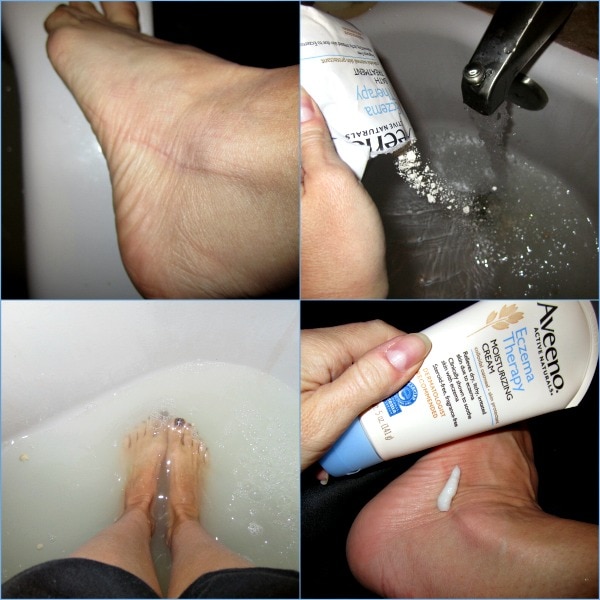 Wow, check out my zombie foot. Geez, didn't realize how bad it looked until looking back at the pictures!
I followed up by applying the Aveeno Eczema Therapy Moisturizing Cream and it felt instantly less dry. It didn't itch for quite a while after the treatment.
I can't say that I am looking forward to Mike's eczema patches making their appearance, but I can say that we are ready. I am quite faithful that this treatment will work very well and I love the idea of using Aveeno Active Naturals as opposed to prescribed chemicals. Since it's already softening my creepy foot line, I am sure it will help his spots, as well.
We had already been huge Aveeno fans, so just add this to the list of products we love of theirs!
Aveeno Eczema Therapy Care kits are available for adults and baby. Both are soothing bath treatments designed to nourish and protect the skin naturally. I definitely suggest giving it a try if you or a member of your family struggles with eczema.