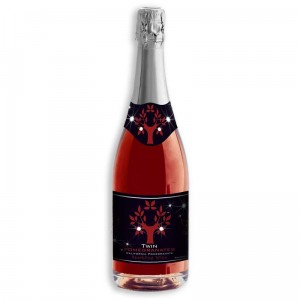 100% Pomegranate Sparkling Wine
First and foremost, this Sparkling Wine makes a beautiful addition to any set table. The deep red hue adds such a splash of spicy color to a bland, off-white table like mine! It also puts the smell of pomegranates in the air! Product was received for review purposes and this post may contain affiliate links.
As for the taste, I have to be honest, for me, it is a bit too dry on its own. But when I used a suggested Drink Recipe, I was delighted with the results! Ruby Kiss was my favorite and I can see making this for gatherings all the time! Especially for fall, the color is perfect!
I only recently discovered that I like Pomegranates. I was at a friends house and she had a bowl of them on her kitchen counter. They were a beautiful centerpiece and I didn't even know they were real (or what they were…how embarrassing!)  She giggled, and made me try one. Ever since then, (probably 3 years ago,) I've been hooked! Although, when I first purchased one, I had no idea how to deal with it and looked up a how-to video online! They had all kinds of tips and tricks to avoid wasting the seeds and staining your clothes. For best results, I place the fruit in a bowl of cool water. I score the rind and then break it apart under water. The membranes float and the seeds sink so it is easy to separate the two!
I can't wait to try to make wine gummies with it!
Twin Pomegranates Wine is offering our readers free shipping on any orders! Use Promo Code:  BLOG