Udderly Smooth
Udderly Smooth has a fantastic line of lotions, body creams and skin care products. Originally developed for use on dairy cows, these products were quickly recognized as a effective way to treat dry and chapped skin. Product was received for review.
This is my second review with Udderly Smooth. Mike and I both fell in love with it during the first review. I also gave some to my Grandmother who is a lotion fanatic and she's hooked, too. What I appreciate most about it is that it's non-greasy and not overly-fragrant. I can be quite sensitive to strong smelling perfumes and lotions. They can even trigger a migraine for me. Udderly Smooth has a light clean scent that is soothing to the senses instead of offensive. I also cannot stand a greasy lotion. If it doesn't absorb quickly I want nothing to do with it! This is not a problem with Udderly Smooth. It rubs in instantly and leaves nothing behind but silky, hydrated skin!
I received three products to try out: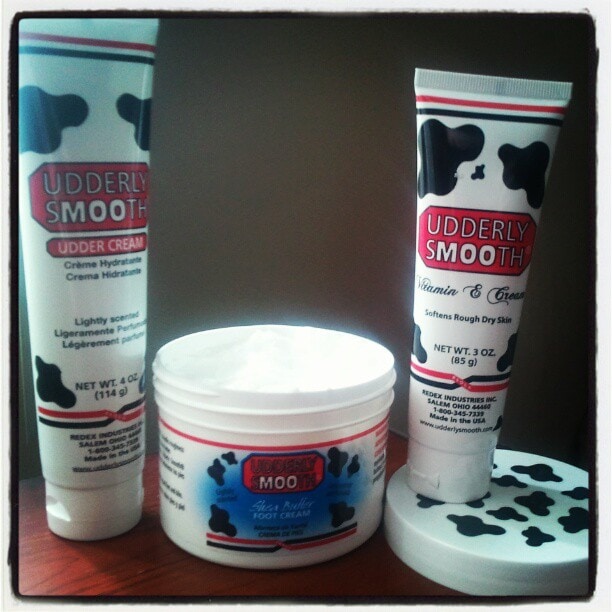 Shea Butter Foot Cream: This works wonders for softening up rough feet after the winter season! My feet will be sandal-ready in no time with this. It can also be used on any other chapped or rough patches of skin. The nourishing shea butter is soothing and healing.
Udder Cream: I use this on my hands. I cannot believe how fast it soaks in. My skin feels so soft and there is ZERO greasy feeling. I like to apply it around my cuticles, too. I am very prone to hangnails and this seems to help prevent them.
Vitamin & Cream: This body cream is enriched with Vitamin E. It seems very similar to the original Udder Cream. I like to use this one on my elbows and dryer parts on my legs.
People find all sorts of uses for Udder Cream. From sunburn to sports to hobbies, this lotion is popular with everyone! You can look for the black and white cow print bottles at a store near you!