UltraPure Cosmetics really caught my eye because they are recommended for people with acne prone skin. I need coverage for my existing blemishes without creating more. After discussing the product with the CEO of UltraPure, Tracy Marshall, I was even more eager to try it.
UltraPure Cosmetics – Mineral Perfection Set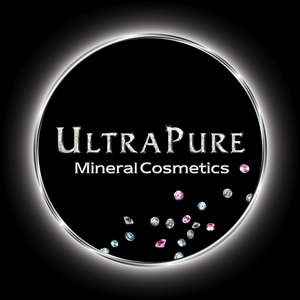 Apparently, a lot of mineral makeups contain Bismuth Oxychloride and UtlraPure does not. Bismuth is a by-product of the copper refining industry and chemically similar to arsenic. It is a very heavy, sticky, and shiny mineral that can permanently enlarge pores. Larger pores? No thank you!!!
I received a Mineral Perfection set which consists of everything you need for a flawless complexion! Available in Light, Medium, Medium/Dark, and Dark. Includes 2 Flawless Finish Foundations (2 grams each), 1 Setting Powder (2 grams), 1 Blush (1 gram), 1 Quick-Fix Concealer (full size), and an Ultimate Buffer Brush all wrapped up neatly in an UltraPure cosmetic bag.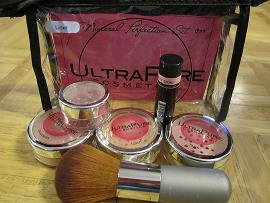 Here are my thoughts on each of the products:
Concealer (Brighten-Up):  This is the first step to cover up blemishes. I really was a little unsure of it at first because it looks like lip balm. But, it does it's job at covering up any red spots, dark circles or other flaws you want to hide. Blends in nicely.
Flawless Finish Foundation (Light and Fawn):  I started with the light color since I have absolutely no tan right now. The Fawn will be great once I do finally get some color. I dumped some of the powder into the lid and swirled the brush in it. You definitely want to tap the majority of it off the brush before applying it to your face. Then just buff it on in a circular motion. Repeat as necessary until you reach the desired coverage.
Matte Setting Powder (Goddess):  This contains Kaolin Clay to absorb excess oil. That is my biggest issue. I abhor my greasy, oily skin. I love the fact that this powder provides a smooth finished look to my makeup and is helping reduce the shine at the same time. Leaves a matte look without appearing cakey or mask-like.
Blush (Neutral Pink):  Very nice shade of pink to rosy up my cheeks a bit. You only need a tiny dab of it.
Ultimate Buffer Brush:  This brush could be a little firmer, but it still works nicely.
After applying the contents of this set like instructed, I was very pleased with my results. My makeup looked natural and my skin looked like it had healthy glow to it, not a greasy shine. Not only do I love the finished product, but I feel great knowing that I am avoiding all the harmful chemicals!