As part of All American Breakfast Month, National Waffle Week September 2nd – 8th is devoted just to waffles! To celebrate, Unique Belgique wants to share some interesting waffle history and ways to enjoy these delectable treats!
Waffle History: Wondering where waffles came from? Find out about this food's history!
· Waffles got their start in the Middle Ages as wafer cakes or crisps made of flat bread.
· Waffle cones filled with ice cream started at the St. Louis World Fair in 1904 when an ice cream vender ran out of cups and asked a nearby waffle maker for help!
· Thomas Jefferson brought a waffle iron from France and held parties known as "Waffle Frolics" in the White House!
· General Electric invented the electric waffle iron in 1911, making waffles an easy, at-home meal made from cheap ingredients like flour and eggs!
· Americans enjoy waffles today because they are the perfect mix of warm sweetness with a crisp outside and a soft baked inside! They can be served at any meal or as dessert!
International Creations: How do waffle lovers from around the world eat waffles, you ask?
· "Belgian Waffles" are actually an American creation! Based on Brussels Waffles, the U.S. version is denser and thinner than the Brussels version.
· The Liege waffle originates in Eastern Belgium and is a thick and chewy waffle topped with pearl sugar crystals sold on the street.
· Waffles in Hong Kong are known as "grid cakes" and come in flavors like chocolate, honey melon and peanut butter!
· Vietnam Pandem waffles have a coconut flavor and a green color on the inside!
Customized Recipes:
Whether with ice cream or traditional butter and syrup, waffles are delightful for any meal! Customize your Unique Belgique waffle with your favorite sweet or savory flavors during this year's National Waffle Week!
· Make a banana's foster style by topping your waffle with sliced ripened bananas and a brown sugar rum sauce.
· Dessert lovers need only heat a waffle and top with cold ice cream or frozen yogurt and hot fudge for a decadent sundae!
· Fruits like strawberries, blackberries and blueberries can be baked in the waffles or sweetened with sugar and piled on top!
· A savory waffle is as easy as wrapping up fried chicken fingers for an interesting new take on the chicken sandwich!
Any way you slice it, a waffle is the perfect sweet treat, filling meal or personalized creation! Enjoy a waffle September 2nd – 8th to celebrate National Waffle Week with Unique Belgique! Find out more on our website!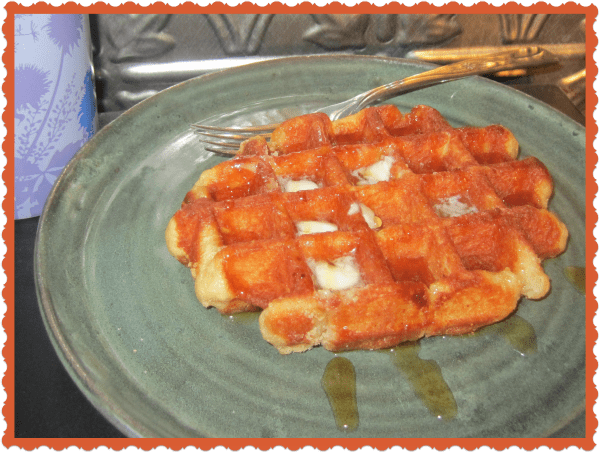 My Thoughts
I got to try out these yummy waffles for myself. I tried mine with butter and syrup. These waffles are actually very sweet on their own, so the syrup was definitely not necessary. These are not something that I, personally, would eat for breakfast. Instead I will save them for special desserts! They are so rich and sugary, they make a fabulous indulgence for my sweet tooth!
How do you like your waffles?