If you haven't heard by now, the next few years with Disney, Marvel Studios, and Lucasfilm are going to be amazing. The upcoming movies coming from these giants are worth saving some dates. I was able to attend the Live Action panel at the D23 Expo as part of a press junket sponsored by Disney. Any affiliate links included in this post help fund the creative minds in my family. As always, all thoughts and opinions shared here are entirely my own.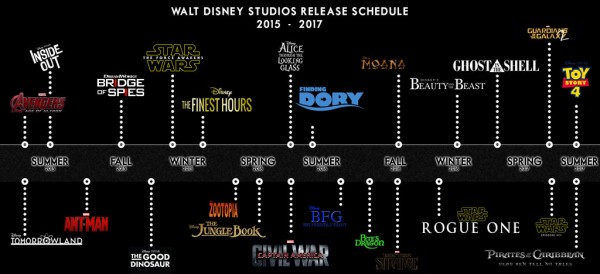 Upcoming Movies
If you're looking for upcoming animated films, check out this post. But if live action is more your speed, then you're in the right place.
Doctor Strange (#DoctorStrange) – October 26, 2016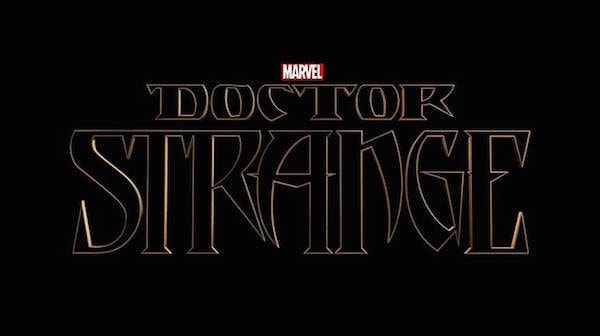 While at the D23 Expo we got to see a sneak peak of Doctor Strange and wow. Awesome cast–anything with Rachel McAdams is bound to be great in my book–and the story line… you simply can't go wrong with Marvel comics coming to the big screen.
Captain America: Civil War (#CaptainAmerica #CivilWar) – May 6, 2016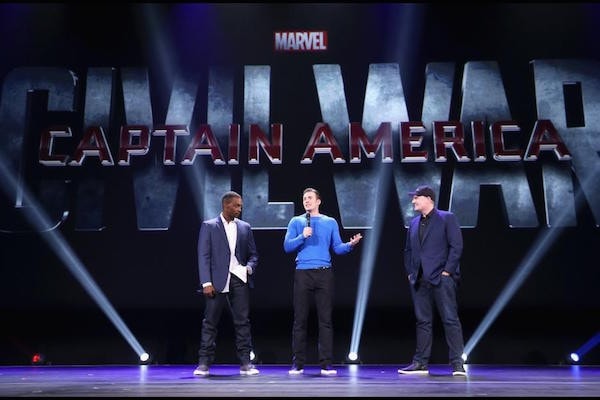 I don't know if they make a screen big enough to contain all the incredible stars that are going to be in this movie. Check out the list from this post.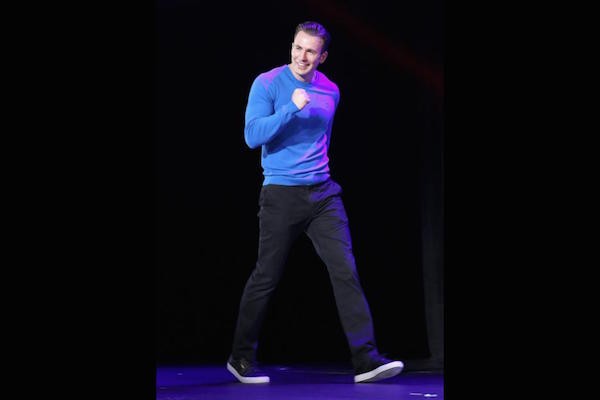 I about died when Chris Evans and his arms sauntered on stage. Seriously, he is so ripped! Sorry–total girl moment just overcame me.
Really though, out of all the upcoming movies from Marvel studios, Captain America: Civil War may be on top of my list. It's the compendium of epicness. The pinnacle of awesome. I can't freaking wait to see this movie!
The Finest Hours (#TheFinestHours) – January 29,2016
Ben already did a full post about this upcoming movie. My calendar has been marked for a while. I'm bringing a full box of tissues. I can barely make it through the trailer without tearing up!
Thunder Mountain is right outside Chris Pine's window at #D23Expo … Lucky Mountain.

— Jennifer Soltys (@SweepTight) August 15, 2015
I should probably be ashamed–but I'm not. I was a super creeper and tweeted about what Chris Pine said about what was outside his hotel window. Nooo… I didn't actually do any creeping but after I sent this tweet I felt a little like one.
The Finest Hours looks like it's going to rip your heart out, wring it out like a sponge, then put it back and repeat. That said, it's going to be truly great, moving and an awesome tribute to the heroes of the story.
The Jungle Book (#TheJungleBook) – April 15, 2016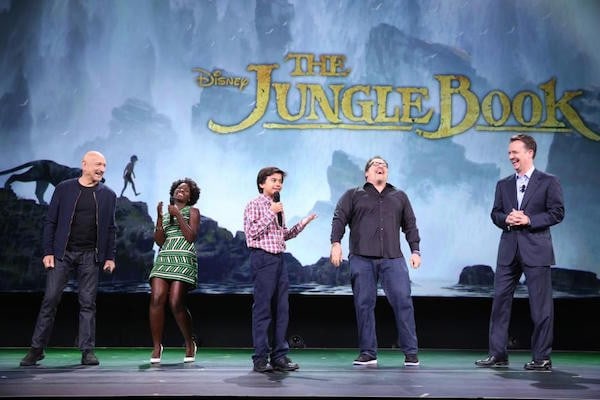 Probably the best matched voice cast ever, The Jungle Book is sure to be wonderful. With Ben Kingsley as Bagheera, Bill Murray as Baloo, and Idris Elba as Shere Khan, this is a story I can't wait to see brought to life. Neel Sethi plays Mowgli and was so charismatic and charming at D23, he is going to be a huge star for sure.
Notice Lupita Nyong'o (voice of Raksha) in the green dress cracking up in the photo above? Well, keep her in mind for a second…
Alice Through the Looking Glass (#DisneyAlice) – May 27, 2016
Who isn't looking forward to Alice Through the Looking Glass? Old, young, boys, girls, the whimsical, steampunk Wonderland characters are back–including Johnny Depp.
Pete's Dragon (#PetesDragon) – August 12, 2016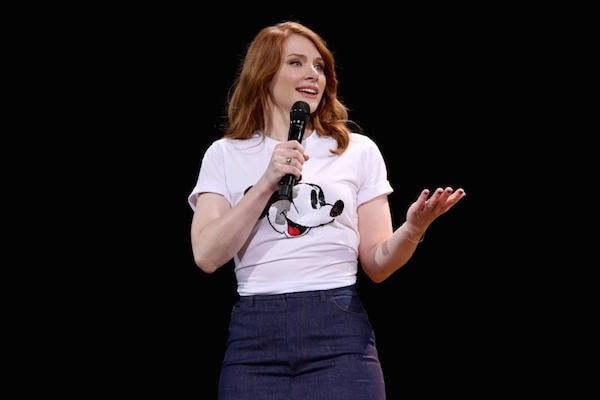 I fell in love with Bryce Dallas Howard in Jurassic World. When she walked on stage to announce Pete's Dragon, she had my attention. This was the first I was hearing of the film, so I was kind of indifferent, figuring oh that will be a cute movie. Then they announced the cast. Robert freaking Redford?! Okay, well played, Disney. You've got me.
Queen of Katwe (#QueenOfKatwe) – 2016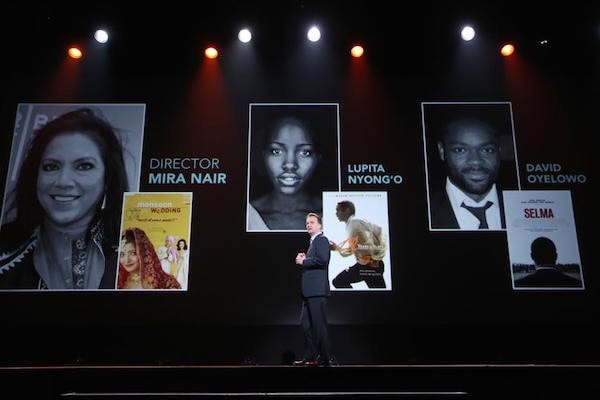 There's Lupita again! She's got quite a bit on her plate right now. On top of being mama wolf in The Jungle Book, she's also starring in Queen of Katwe. This film is based on the inspirational true story of a girl from the poverty-stricken slums of rural Uganda who dreams of becoming a champion chess player.
Currently being filmed in London, the stars came to us over the screen to give us a treat–a musical greeting from Emma Watson, Josh Gad, and Luke Evans! Beauty and the Beast has always been a favorite–can't wait for this one either!
Pirates of the Caribbean: Dead Men Tell No Tales (#PiratesOfTheCaribbean) – July 7, 2017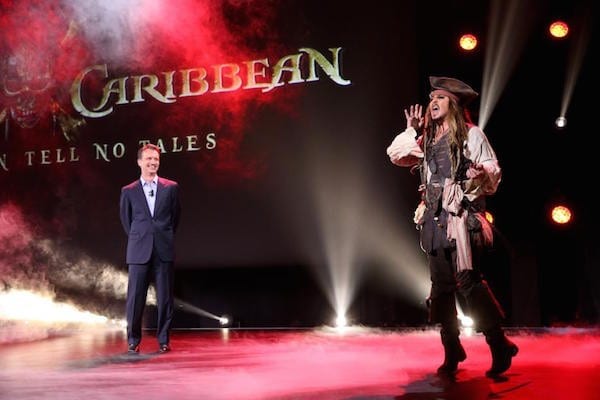 SURPRISE! Johnny Depp in full character as Captain Jack Sparrow is here. And throwing grapes at the crowd? Of course he is. My life is now complete.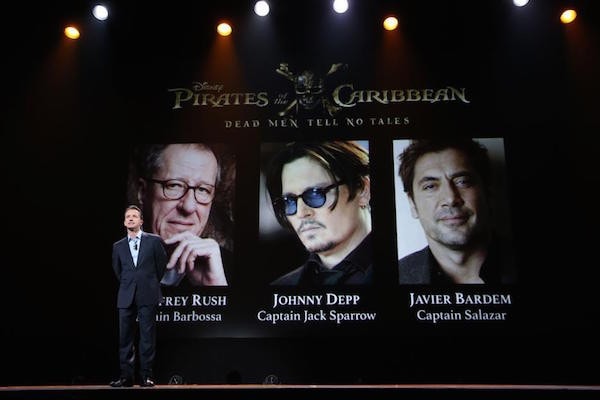 Like the Pirate movies could get any better… oh wait. They added Javier Bardem to the cast! He will play Captain Salazar. Who's excited for summer of '17?!
Star Wars: The Force Awakens (#StarWars #ForceAwakens) – December 18, 2015
We've been talking about this one for a while now too. Check out this post and this one for even more on the Star Wars scoop.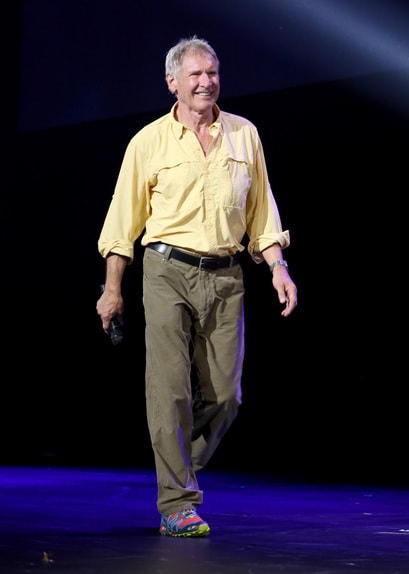 Just when I think, how could this day get any better? Harrison Ford. He walks out on stage humble and awestruck by us? OMG. Meanwhile my heart rate is now cranking so fast I won't need to do cardio for a week. (Thanks, BTW.)
And then the unimaginable happens. Johnny Depp AND Harrison Ford.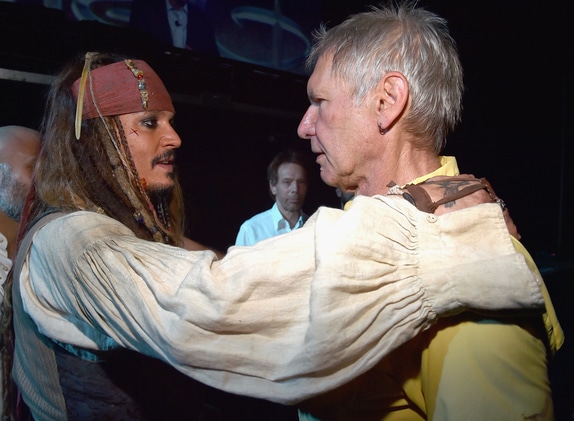 Rogue One (#RogueOne) – December 16, 2016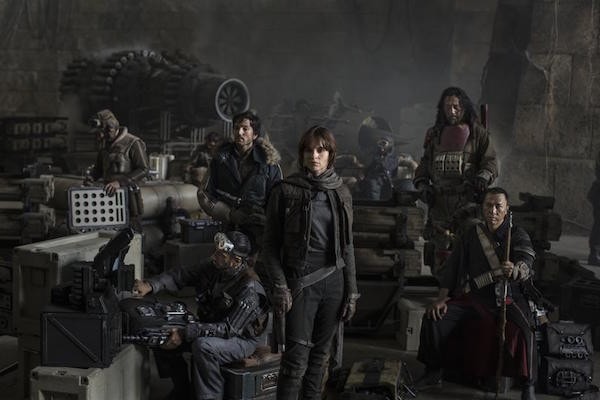 This Star Wars story tells about an epic adventure in which Rebels plot to steal the plans of the Death Star.
Out of all the upcoming movies, which are looking forward to the most?