As we age, all sorts of things start changing in our bodies. None of these physiological changes should be cause for embarrassment; especially urinary incontinence in women. There are tons of reasons it can happen (at any age,) and it's not shameful. With the right underwear, no one even has to know. This post was sponsored by Depend as part of an Influencer Activation for Influence Central. I received complimentary products to facilitate my review. All thoughts and opinions shared here are based on my experience.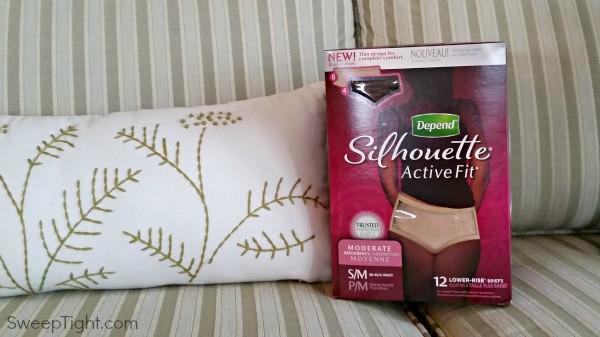 Urinary Incontinence in Women
It's not embarrassing! It's just part of life for 1 in 3 American women. That's over 51 million women that experience bladder leakage. There are many common causes including pregnancy, childbirth, and diabetes.
I've personally experienced it when I attended my kids' first birthday party at a jumpy house place. Without a thought or care I hopped into the blowup castle only to discover upon first bounce that my bladder was not ready for this party. I mean, I didn't straight up wet my pants. It was just a drip. But by the look on my face, the other 'seasoned' mothers knew exactly what had happened and we all shared a laugh.
Get a $2 Coupon here!
No big deal, I'd rather laugh it off than ruin a whole day over something so trivial. However, for those that suffer from more than just a drip, Depend Silhouette Active Fit briefs can help. Check out this video I did to test how much liquid they can hold. In my opinion, the wearer would probably remain comfortable with up to a cup or 1 1/4 cup. After that, the material gets a bit bulky, but it absorbed all 2 cups of water!
My gorgeous Grandma is 82. She had 6 kids really close together which was very hard on her body. To the point she had to have a full hysterectomy when she was 29. Through it all her bladder seemed to maintain its strength. But a couple years ago she had a stroke. At first she was struggling tremendously with bladder leakage–had some improvement–but it didn't last.
She's really funny about it too. She's not humiliated or ashamed. She just jokes and as classy and old school as she is, she'll even cuss about it–only making it funnier. How adorable is she! She let me take a photo of her underwear drawer with the Depend Silhouette Active Fit briefs in there… you can barely even tell them apart from her other cute unmentionables. 🙂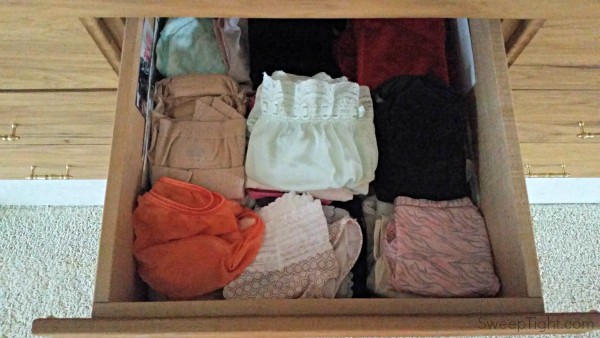 She's tried pads and she says "it feels like I'm carrying a football in my crotch." (Yeah, that sounds miserable.) So, I gave her these samples of Depend Silhouette Active Fit briefs. She immediately went and put a pair on and she came out smiling. She said they were soft, comfy, and not at all like a crotch-football. Her confidence was apparent because even in her favorite pants, you couldn't tell she was wearing anything out of the ordinary.
As for their performance, she said they are perfect for her needs. They allow her to make it to the bathroom with dignity.
Plus, the come in black and beige so she has freedom to continue wearing all her favorite clothes without worry.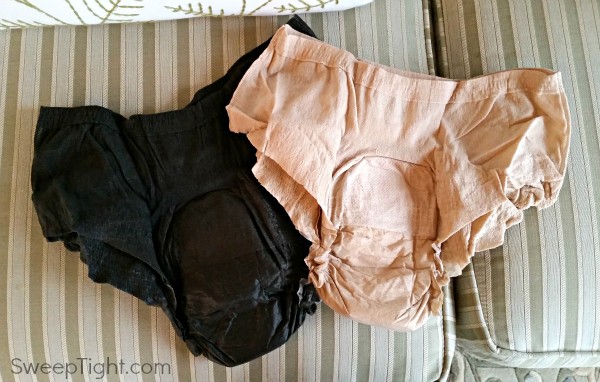 I'm so happy to see the confidence boost. Life really does run full circle–if only society appreciated that, none of these issues would be such a big deal. Which is why Depend has been running the Underwareness social movement for two years and counting. It's a charitable campaign to break down the bladder leakage stigma.
As part of Underwareness, the Depend brand is encouraging people to show their support for urinary incontinence in women. For every photo and video shared using #Underwareness, the Depend brand will donate $1, up to $3 million, through 2016 to fund charities that advance the research and education of bladder leakage.
Get a COUPON HERE
Find Depend on Facebook
Follow on Twitter
Did you know some level of urinary incontinence in women was so common?