This is a Sponsored post written by me on behalf of VTechKids for IZEA. All opinions are 100% mine.
What is it about little boys and dinosaurs? My son had me learn just about every dinosaurs' name so that I could tell him which one was which for all of his little miniature figures. Then he was obsessed with cars. Kid toys were not nearly as cool when he was little–which wasn't that long ago! He's only ten. But now that I babysit regularly for my neighbor, I am back up to speed with the younger crowd as her kids are ages 3, 5, 7 and 10.
V-Tech Switch & Go Dinos – The Ultimate Kid Toys
V-Tech Switch & Go Dinos offer a double two-for-one experience for kids. They are interactive and educational while being able to morph from car to dinosaur. Five-year-old Andrew gives these kid toys his stamp of approval.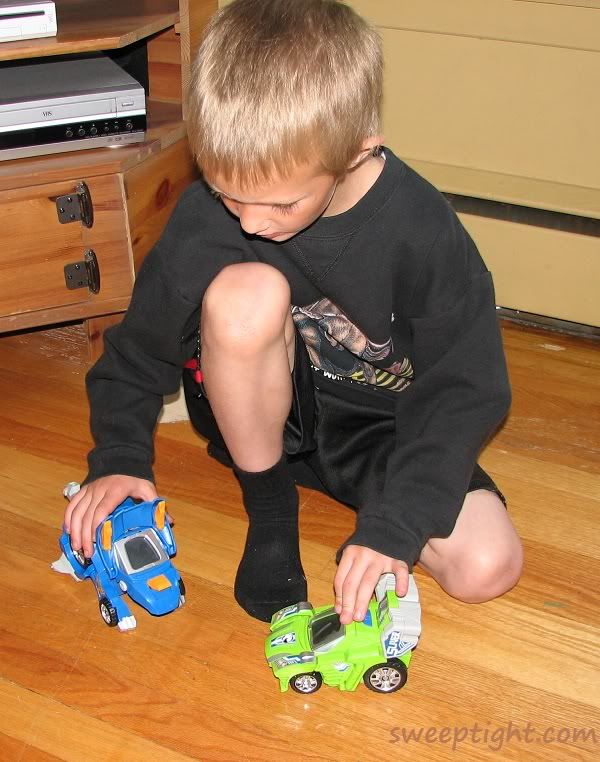 From the moment we took them out of their packages he was totally consumed. He was quickly able to change them from car to dino and back again. He really enjoyed changing the faces on the interactive LCD screen and learning new dino facts. All the sound effects really brought these toys to life.
As a parent and babysitter, I find it exremely important that kid toys have some educational value. Their minds are ready and eager to learn at all times, so we should capitalize on every opportunity to teach them that learning is woderful and FUN.


These Switch & Go Dinos make great gifts! Buy today on Amazon The four Starter Dinos: Silver the T-Rex, T-Don the Pteranodon, Tonn the Stegosaurus and Horns the Triceratops are available exclusively at Amazon.com. Beginning June 18th, 2012, they will also be available at VTechKids.com.
Which Switch & Go Dino is your favorite?
Silver the T-Rex…
… or Horns the Triceratops?