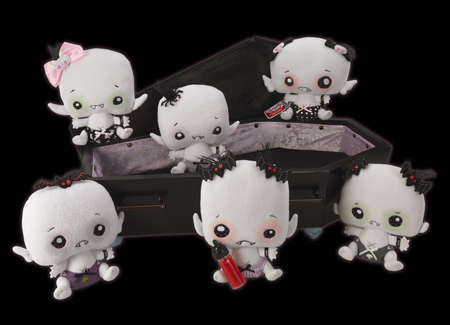 Count Vlad Von Gloom and a Disappearing Bottle of Blood
This vampire craze has been going on for a few years now, right? Isn't about time it ends? I HOPE NOT! I, too, love all things vampire…or Vampyre. I was obsessed like a crazed teen with the Twilight Saga – books and movies. I have read all of the Sookie Stackhouse series and now impatiently wait for True Blood every Sunday. I have read several of the many supernatural romances out there involving vampires. Yep, I am guilty! I don't know what it is. Maybe it was my early crush on Keifer Sutherland in The Lost Boys that left a lingering desire for anything blood-sucking. Product was received for review purposes and this post may contain affiliate links.
For some reason I really thought the Vamplets were smaller when seeing them online. When Count Vlad arrived I was surprised at his size. He showed up in his coffin and with his supplies. Presentation can make all the difference when receiving a package. The folks at Vamplets really pay attention to detail making this an extra fun arrival! From the disappearing blood bottle to the "Condolences of Delivery" letter, my Vamplet came fully equipped! All the clever little stories and even the tag are just too cute. I don't care about the warnings, though. Count Vlad is still squishy and lovable if you ask me. I would like to get my hands on all of these little devils!