I had a chance to review vinyl wall decals in my own home awhile back and I was super excited to review a great company with tons of vinyl decal options again. Stellar Wall Decals, an online retailer, offers a great variety of vinyl wall decals, with many designs for teen and children. I received a product in exchange for a review.
Teen Décor with Vinyl Wall Decals
I am on the hunt for Christmas gifts already this year – it always seems a bit daunting to find that special something for a variety of friends and family members. I decided to look into vinyl wall decals for my teenage sister-in-law because she just moved into a new place, and hopefully it will brighten up her room a bit! I picked silver and pink stars for the space. I love that there are a variety of sizes and they are all separate pieces, so she can put them wherever she wants to in the room.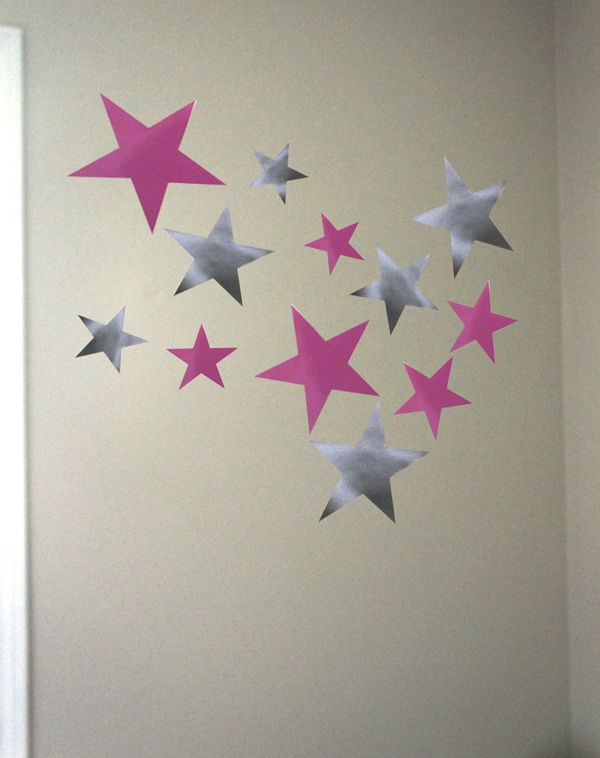 Stellar Wall Decals offers a variety of options when it comes to shapes, sizes, and colors – which allows for seemingly endless combinations. With categories like aliens, angels, astrology, chandeliers, dragons, dirt bikes, and so many more – it is easy to find something that fits what you are into!
When it comes to installation – we decided on a pretty boring wall and placed just a few of the decals to get started. We cut the stars apart into their own individual pieces, so we could stick them exactly how we wanted. Once it was attached to the wall with the remaining paper on the outside, we rubbed it with the tool that comes with the decals, and removed the final layer of paper. It was exciting to see how it turned out!
Make sure to check out Stellar Wall Decals to find something to brighten up your teen's walls (or maybe your own!).