Skin Care Collection

My entire life I have loved to layout in the sun. I just can't get enough of it. Even now that I am older and know better, I still can't stay completely away. I am definitely starting to notice the toll it is taking on my skin as I get older. This concerns me and I have been wanting to start possibly undoing some of the damage.
There are so many products on the market that claim to improve the signs of aging, but I need one that will also help me with my oiliness! Yes, my skin is just tons of fun! Even though I am getting older, I still have the greasy skin of a teenager.
Vitaphenol offers an amazing skin care regimen that is made up of ingredients that contain powerful antioxidants to treat past skin damage and help prevent further damage in the future. There are four systems to choose from based on your skin type:  Dry skin, normal skin, oily skin and acne-prone skin. I was torn between choosing the acne-prone and oily systems. Ultimately I chose oily because I think that is more of an issue for me than acne. Sure, I breakout, but my biggest problem is the constant shine and greasiness.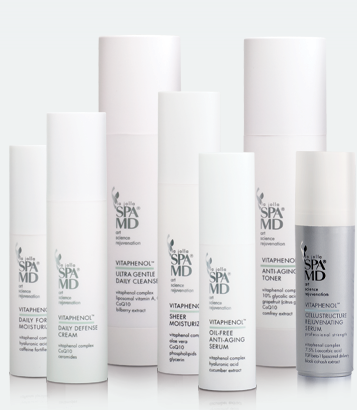 Here are the products included in the system and my thoughts on each one:
Ultra gentle daily cleanser:  Contains the powerful antioxidant-rich Vitaphenol complex, liposomal vitamins A, C + E, CoQ10 and bilberry extract. I like the feeling of this creamy cleanser. It smells fantastic and leaves my skin feeling clean and tighter. Definitely does a good job of removing excess oil.
Anti-aging toner:  Contains Vitaphenol complex, 10% glycolic acid, grapefruit extract, CoQ10 and comfrey extract. With the acid and citrus ingredients I really expected this to burn, but it does not at all. I just spray it on a cotton pad and sweep over my face right after cleansing. It enhances the clean feeling that I already have after using the cleanser.
Cellustructure Rejuvenating Serum:  Contains Vitaphenol complex, 7.5% L-ascorbic acid, TGF-beta-1 liposomal delivery and black cohosh extract. Okay, this stuff is strange! I have never applied anything like it to my face. It is a lotion, but feels like dry powder. It's hard to explain, but once it is on, it feels great. The smell is a little weird, too, but my skin felt a lot softer and smoother once it was on. Being that it encourages collagen and elastin production and is recommended by one of the world's leading cosmetic surgeons and dermatologists, it can be as weird as it wants!
Sheer moisturizer:  Contains Vitaphenol complex, aloe vera, CoQ10, phospholipids and glycerin. This is a light moisturizer which is the only kind I will use because of my oiliness. The last thing I want is a greasy feeling. I just use a tiny bit of it and it gives me just the right amount of moisture that my skin needs and I get all of the benefits of the powerful ingredients.
Overall I am impressed with the powerhouse of antioxidants in this skin care line. There are so many nourishing and repairing vitamins that make up these products. I noticed positive results after just a few uses. I am confident I can continue to look forward to more!