Creating a wedding registry is surprisingly harder than one would think. At least it was for me. I always thought it would be a blast to run around stores with the scanner gun and just add to the list, but when it came time for me to do that, I froze. Did I really want fine China? (Nope) Would we ever use an ice cream maker? (Heck yes) The reviewer has been compensated in the form of a Best Buy Gift Card.
Mike handed me the reigns when it came to our wedding registry. One of my big concerns was adding expensive items. For some reason, I felt greedy, or pushy. That thought was ridiculous considering how many times I have pitched in on gifts with my friends for other friends' showers. People love group gifting. It's awesome to be able to send one person to the store, grab a big amazing gift, and sign several names to the card.
The wedding registry at Best Buy makes giving as a group even easier. Guests can go online and contribute the amount they choose to go towards bigger gifts. It's beyond easy and time saving, plus the bride and groom get to check a big ticket item off their list. It's a win all around.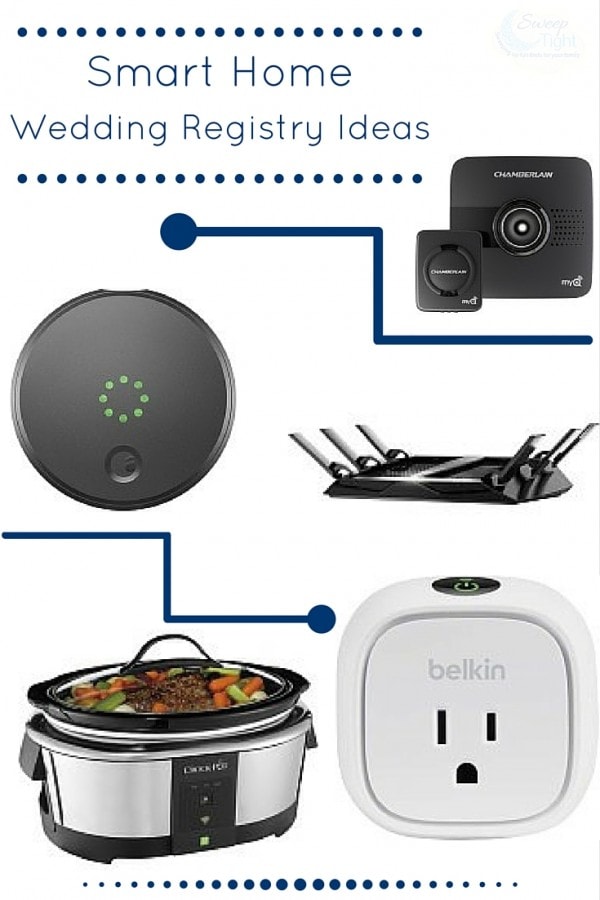 Can we just take a moment to acknowledge that you can register for your wedding at Best Buy? That's seriously too cool. Here are my top five choices for couples looking to create a connected home.
5 Smart Home Wedding Registry Ideas
Belkin – WeMo Insight Switch: Allows you to turn your home electronics on or off from your smartphone.
Chamberlain – MyQ Garage Door Controller: Works with most garage door openers made after 1993. Control your garage door from your mobile device.
August – Smart Lock Bluetooth Keyless Home Entry: For use with most standard deadbolts, control your locks from your smartphone.
NETGEAR – Nighthawk X6 AC3200 Tri-Band Wi-Fi Router: Up to 3.2 Gbps data transfer rates, so no one hogs the internet. That's an argument newlyweds don't need. 😉
Crock-Pot – 6-Quart WeMo Enabled Smart Slow Cooker: Remote access to cooking functions. Just when you think slow cooking couldn't get better. How did I just find out this exists?
So, now that I officially want to re-register for our wedding, those are my picks for any fellow gadget-lovers to add to their wedding registry. Most of them are ideal for group gifting. Of course, you want to add items within a variety of price ranges. Best Buy has handy checklists for each room to help you register for everything you need.
Most importantly, have fun! The wedding registry can be an enjoyable time as a couple, so have a blast with it.
Have you or will you be creating a wedding registry anytime soon?